Packaging, Labeling & Product Design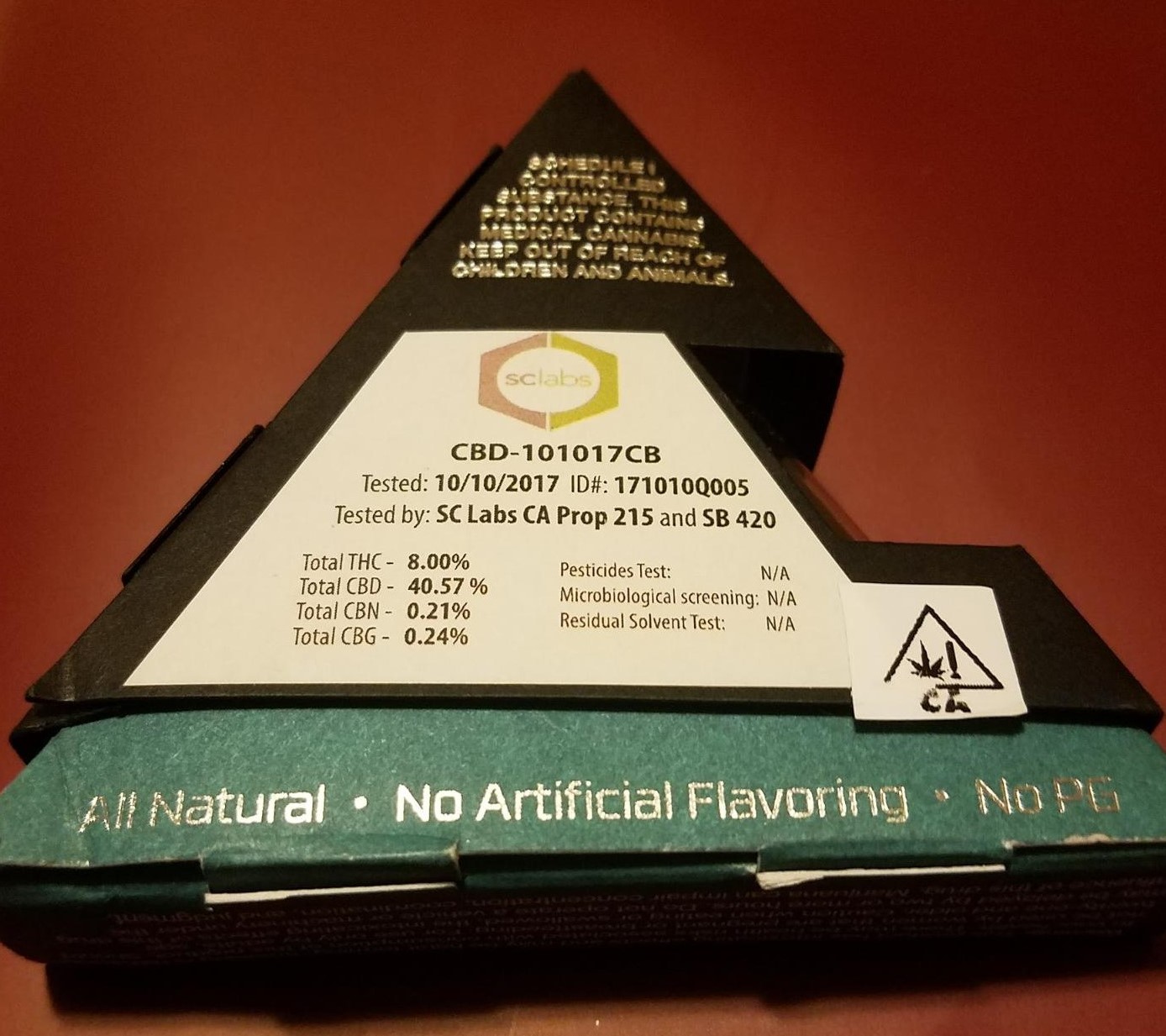 The CBD cartridge's distinct triangular packaging matches the Delta 9 logo, only silver and black with a bottom seafoam green border that includes very basic info: product name (DeltaMax 2.0 CBD Natural), CBD:THC ratio (5:1), and volume by weight (1,000mg/1g). Find a lengthy health warning on the bottom at the box. Most of the text is silver foiled, which makes the info prominent and compliments the black, silver and seafoam green color scheme. The cardboard seems fairly sturdy and has a window so you can see the CBD oil.
On the back, the seafoam green border notes that the CBD cartridge is all natural, contains no artificial flavoring or PG (propylene glycol), a potentially harmful thinning agent used in some vape oils. Above this info is a sticker label with SC Labs' test results, testing date, ID number, and cannabinoid percentages (40.57% CBD, 8% THC, 0.21% CBN, 0.24% CBG). There are also tests for pesticides, microbiologicals and residual solvents, though all three say "N/A" and isn't helpful. They should say "Passed" or "ND" (Not Detected). Is Delta 9 just trying to appear thorough? The lack of a confirmable QR code fuels my suspicions.
I wish Delta 9 included an ingredients list so I can verify what makes up more than 50% of this cartridge. Looking at the oil, I can only assume there are some unwanted fillers. While I appreciate the four different cannabinoid percentages, I'd love to see info on their extraction process along with a major terpene profile. I also notice "Natural" printed three times, which makes me a little skeptical when I'm bombarded with an "all-natural" message. A false sense of security like those unknown testing results?
Quality, Ease of Use
Inside, the large cartridge sits in a hinged, clear plastic package. The plastic could be a little thicker but overall provides ample security. The metal mouthpiece is conical in shape, almost like the tip of a pen, while the tank below has the Delta 9 logo etched onto the glass. It's sturdy metal and glass construction is much thicker and heavier than most other vape carts I've tried; even wider than the vape battery.
Before heading out I take two hits. I taste an overpowering woody flavor followed by a subtle sour taste indicative of CBD. The clean and clear airflow doesn't clog and actually whistles when you take a high-pressured drag. This is due to the wide intake holes surrounding the bottom of the tank that assure all the oil is used. As I continue to vape the flavors start leveling out, though the profile still isn't my cup of tea. It provides consistently thick clouds that were incredibly smooth, even if you take a massive hit.
However, the crystal-clear amber oil appears very thin as it moves around the cartridge too easily, usually a sign of additives. The cart is compatible with any standard 510-threaded pen battery yet the heavier, bulker design adds more weight so hold on tight; it made my vape pen jar tip over!
Potency, Effectiveness & Affordability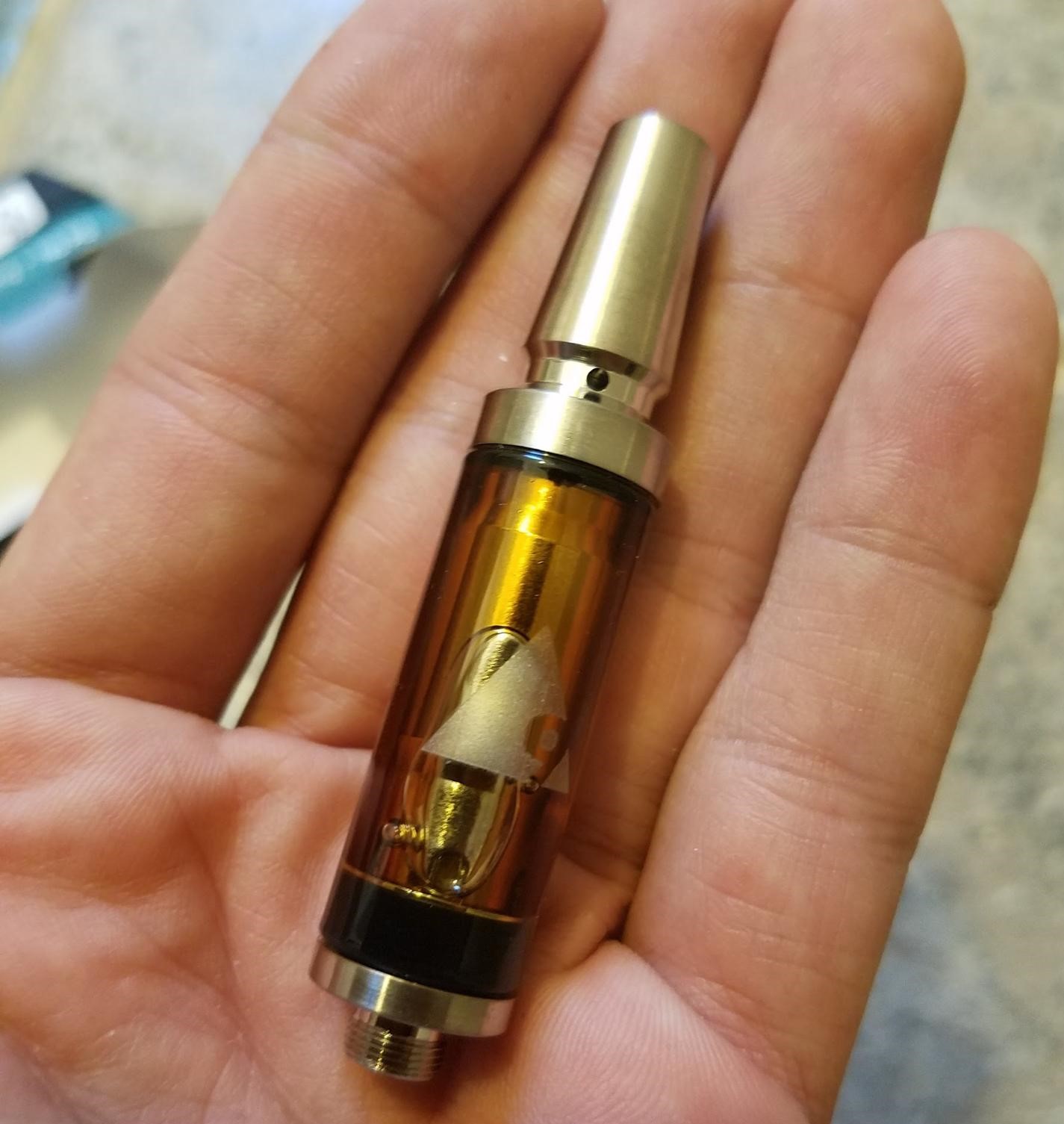 With this stronger than average 5:1 CBD:THC ratio I was expecting to feel less sore from just one pull. That wasn't the case. Three solid puffs later, I noticed my biceps, chest and thighs weren't so tender while walking to the store. Still, I found myself puffing every half hour to maintain this relief so it didn't help nearly as much as other CBD vapes I've tried like Marley Natural's Marley Red cartridge. But don't be discouraged; if you have a low tolerance or are new to cannabis, you may find the subtle, clear-headed calm worthwhile.
As for cost, $50 usually gets you a full gram cartridge of CBD vape oil, which is usually more expensive than THC carts and even some Pax pods, so a full gram is a solid deal.
Nugg Score: How the Nugg Team Rates This Product
Packaging: 4.5/5
Distinct triangular packaging, silver foiling, and seafoam green cardboard (Mulder and Scully, eat your heart out).

Cut out lets you see the cartridge and oil.

Plastic could be a bit thicker for better protection.
Labeling: 3/5
Sufficient labeling for compliance.

Term "natural" is printed three times, which raises an eyebrow.

Unlabeled 50% of cannabinoids and terpenes remain a mystery.

Would like to have seen the ingredients, brief explanation of Delta 9's extraction process, and a major terpene profile.
Cartridge Quality: 4.5/5 
Thick metal and glass construction; more durable than any other cartridge I've seen.  

Bulkiness makes this DeltaMax 2.0 hard to bring along for the ride.

Easy airflow without clogging; allows you to take a high-pressured drag.
Taste: 3/5
First hit was woody and a little sour, which I associate with

CBD flower

.

Decent but not remarkable.
Vapor Quality: 5/5
Consistently thick clouds with no coughing.

Smooth, even with a massive hit!
Oil Quality: 2.5/5
Thin and runny oil, usually indicates the use of a filler.

Overall oil quality was a disappointment.
Effectiveness: 3/5
As anticipated with the 5:1 CBD:THC ratio, hardly felt psychoactive effects but the CBD did ease my sore muscles.

Had to take a few puffs every half hour.

Not as effective as other CBD-rich vapes I've tried, as the effects wore off relatively quickly.

Might be ideal for new users or someone with a low cannabis tolerance.
Ease of Use: 3.5/5
Cartridge can be used with any standard 510-threaded battery.

Heavy weight makes it easy to tip and fall out of your hand.

Too bulky for my liking; not easy to transport.
Consistency: 5/5
Provides large clouds of vapor consistently, without clogging, down to the last drop.

Wide intake holes helps to make this possible.
Price: 5/5
At $50, this is a solid price air price for one gram of CBD-rich oil, as many half-gram cartridges cost even more.
Overall Rating: 3.9
The DeltaMax 2.9 Natural CBD 5:1 cartridge is constructed with the highest quality glass and metal I've seen in a vape. The hits are clear and smooth while the vapor quality can't be beat. However, the oil was too thin for my preference and the taste wasn't anything special. Combine these attributes with the minimal effects and it's decent, not jaw-dropping. While it didn't provide more permanent sore muscle relief, it's worth trying if you want a lower potency, CBD-rich cartridge that won't clog for a good price. 
Leave a Comment
Remember preacher/former pimp/spiritual adviser Bishop Don "Magic" Juan chanting, "Green for the money, gold for the honey"? You best not forget 'cause the Bishop is back and this time he's running the cannabis game.
Chuuuch Cannabis comes correct with a full line of premium products to ensure your cannabis game is on point. The brand begins with the very finest greenery, sourcing the best OG Kush flower for their vape pens, cartridges and pre-rolls. These nuggs are behemoths–just check out the Godzilla-size one sitting on our reviewer Matt's rolling board–you can't CGI that! Don Juan himself even brought along a blinged-out chalice overflowing with this dank bud. Take our word for it: it's some serious top-shelf product.
After the green comes the gold. Chuuuch extracts all of those tantalizing cannabinoids from their OG Kush flower to create what we think just might be one of the best vape cartridges of 2019, available in this Hit Kit along with a gold pen battery and stylish green and gold carrying case. (Almost makes us sad to think about those plump nuggs ground up and distilled). Watch Matt vape this resulting oil and learn how you can stay fly like the Bishop.
If you don't need the Hit Kit but still want that OG Kush diet, check out their other offerings. The Key to the City is a battery and OG Kush vape cartridge neatly tucked into a retractable key fob; a perfect addition to your Caddy keys. Chuuuch also offers an OG Kush pre-roll 3-pack, signature OG Kush eighth jar, half gram OG Kush cartridge and, for the real OG's, single and 3-pack pre-rolled blunts to put a lil' more green in your game.
Order this Hit Kit and other Chuuuch Cannabis products online and have them sent to you!
Leave a Comment
Never count out the magic of Skywalker OG (or anyone named Skywalker for that matter). The sky's the limit with this uber-relaxing and healing high. It's an indica-dominant hybrid (85% indica and 15% sativa), a mix of the hugely popular Skywalker and OG Kush strains. I'm hoping to get these same effects from West Coast Cure's (WCC) Skywalker OG shatter oil cartridge. Let's find out if the force is strong with this one.
West Coast Cure is known for super powered highs, the kind that leave you sprawled and staring with a blissful smile. That potency helped win first place in the 2012 High Times Cannabis Cup's "Concentrates" category with their Hardcore OG Budder. Rapper/Viceland foodie Action Bronson has vocally supported this crowd-pleaser and their other award-winning budder, crumble and shatter.
This Skywalker OG "Ultra Purified" Premium Shatter Oil sounds like a dabbable, and that's deliberate. The idea behind "shatter oil" is to create a vape that tastes and works like a dab with a full, flavorful terpene profile. It specifically operates on lower temperature levels to boost the profile and lower the throat harshness.