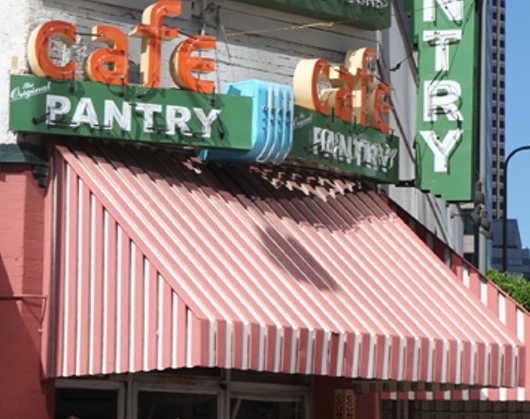 Located at 9th and Figueroa, this downtown LA institution is always open and pretty much always busy since it opened in 1924. Touting the motto "Never closed, never without a customer," The Pantry (owned by former mayor Richard Riordan) doesn't even have locks on its doors.
Regardless of the time of day, you can bet there'll be a line. Just remember to have money in your pocket or hit the ATM beforehand as this is a cash-only establishment.
The Pantry's menu spans from traditional breakfast choices (pancakes, ham steak, omelets) to dinners that remind me of my country-boy days back in Ohio (Southern fried steak, roast beef, pork chops). A slice of pie and a coffee would cost you less than $7 so you won't break the bank, although some of their platters cost as much as $25. Too bad they don't cook their food with cannabis. 
If you're unsure of what to get, I suggest the french toast because at $5.65 it's the most affordably delectable all-day breakfast anywhere; and if you don't like it, you only lost six bucks.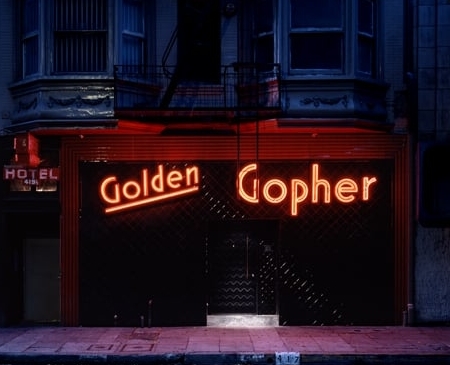 For some of you east coast transplants, the allure of a street hot dog vendor can be nostalgic. On 8th, between Hill and Olive, you'll find your fix right outside a cool lounge/bar called The Golden Gopher. On Friday and Saturday nights there's a woman selling hot dogs right outside on the sidewalk, mainly to drunk young people, until about 3am. Just follow the smell of grilled onions.
I actually don't even like hot dogs and I tried one. I was leaving the Gopher one night and the smell of the fresh peppers was noticeable, though nothing irresistible. But when I realized I'd have to walk past her to get home, I caved in and bought one. It was juicy, flavorful and cooked in dirty water, the way a real street dog should be made!
Located on the burgeoning Spring Street between 6th and 7th, LA Cafe serves food 24 hours a day, plus offers delivery. Deploying smart cars and bicyclists throughout downtown LA, LA Cafe is my default spot when I can't make up my mind.
All of the cafe's seating is outdoors, making for a genuine DTLA experience as you observe the distinct people from the area. Being outdoors, it's also dog friendly so you can get your food and walk your dog in one trip.
Serving everything from a grilled cheese to a steak dinner, this eatery always has an option for what you crave. They have something for everyone, meat-eater or vegetarian, and their online ordering system makes it perfect for the food-craving cannabis patient, no matter the time of day.
Personally, I like their breakfast combos; their burgers are good, but my favorite is the fish and chips: three pieces of golden fried cod with the most delicious aioli. Don't want fries with that? Order Saratoga chips instead.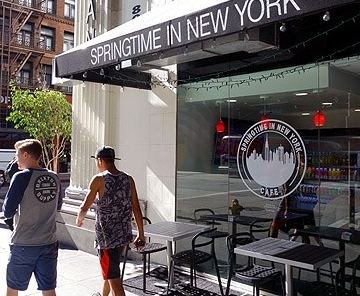 Although it's currently autumn in LA, we're talking about Springtime in NY. Conveniently located at the corner of 6th and Spring, just a block from popular spots like Association, The Exchange and Clifton's, Springtime is open until 3am on Thursday, Friday and Saturday nights.
With indoor and outdoor seating, you can choose your dining experience, although that corner on a weekend night is prime people-watching real estate. In a hurry or don't want to deal with the crowd? Use their online ordering and delivery to enjoy your late night snack at home in between episodes of Bob's Burgers.
The restaurant boasts several foods to choose from. Whether you want bacon and eggs (breakfast served all day), a sandwich (hot or cold), pasta or salad, Springtime has great choices. However, it's their creative take on fries that every MMJ patient must try.
The owners recently opened another restaurant right next door named after what's quite possibly the most interesting part of their menu.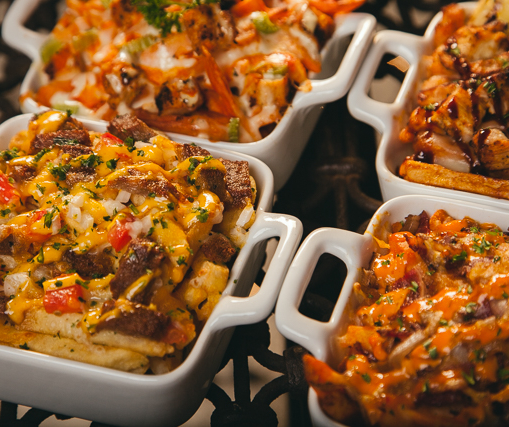 The culinary scientists behind this place decided to take what most see as a side item and made it the focus, like Canada's national dish, poutine. What began as a few items on the Springtime in New York menu has blossomed into its own restaurant in America's fastest growing metropolis.
FryMadness is a specialty french fry bar, combining fries with the best flavors you'd normally not think to mix. This is the perfect place to satisfy your hunger, no matter what you're craving. Want seafood? Order the Jerk Shrimp fries. Want something hearty? Order the pastrami fries. High and wanted to try fries on pizza? These guys have that too.
This more unique eatery is open until 3am on Thursday, Friday and Saturday and until 1am all other days; they also deliver but only via PostMates for now.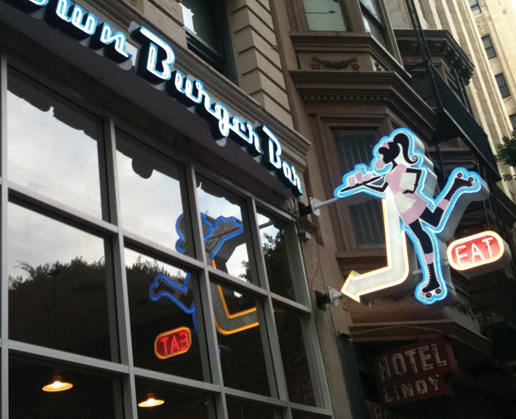 Located on 6th Street between Spring and Broadway, D-Town Burger Bar has a '50s Johnny Rockets feel to it, providing a nostalgic escape from downtown LA's hustle and bustle until midnight on Thursdays and 3am on Fridays and Saturdays. You might recognize the neon sign of the roller waitress hanging outside.
I prefer to sit at the bar and watch them make my burger–it's something about the traditional diner experience for me–but there's plenty of table seating available if you're with a group of friends.
D-Town has recently expanded its menu from burgers to different types of sandwiches and even breakfast. Little known off-menu secret: if you ask for garlic fries, they'll toss them in garlic and olive oil for you. Bomb! If you haven't experienced D-Town Burger, do yourself a favor and try it. You won't regret it.  
There you have it; awesome downtown LA places to chow down late night while enjoying your preferred cannabis method. Do you have a favorite all-night Los Angeles spot that's not on this list? Let us know!
Leave a Comment
If you haven't already seen the promos or missed the trailers in between your favorite Netflix shows, Disjointed is the streaming giant's new cannabis sitcom. So, naturally, we were curious to see how this Hollywood depiction of our industry matches real life.
We binge-watched the the first five episodes to give it a chance and an accurate assessment. I'll avoid specifics and spoilers and stick to my opinions of the show as a whole. Let's check it out.