For New Patients and the Cost-Conscious
For many medical marijuana patients, two primary factors can cause concentrates to be somewhat inaccessible: they're often costly, and can be difficult to use. An effective water pipe optimized for concentrates can run you upwards of 100$, meaning that vape pens are the only viable method of concentrate consumption for the cost-conscious. However, even vape pens start at the $30+ range (high-end vaporizer pens can be $200+). Unfortunately, many brands are finicky and prone to breaking.
Though they don't solve all of issues associated with modern-day vape pens (it's extremely rare to find a brand who does), O.pen Vape has designed their products to be easy to operate and accessible to a wide audience. Their flagship product, aptly called the O.pen Vape, is sold at a $20-$25 price point, and uses pre-filled cartridges (often priced $30 and above per cartridge) that can simply be screwed onto the battery and heating element — no more trying to delicately place wax onto a small and fragile coil.
As a company, O.pen Vape keeps communication with their retailers open. On their website they claim to train each of their distributors to be knowledgeable about their products, and even offer a warranty through distributors—though at least one customer has reported that their dispensary didn't follow through on this. Regardless, open communication and collaboration with their retail partners is a huge plus in an industry that lacks diligence and consistency.
This dispensary-specific problem aside, the O.pen Vape is simple and accessible. While its simplicity is limiting in some ways (to be discussed shortly), medical marijuana patients looking for an easy entry point into concentrates without costly bells and whistles might be satisfied with the O.pen Vape.
How the O.pen Vape Pen Works
O.pen vape charging instructions
Out of the box, the O.pen Vape is nothing more than the main chassis and a USB charging tip that comes screwed onto the end of the pen. The battery contains no charge at the outset, so the first thing new users will want to do is charge the pen, which will take three or four hours. The battery will stay charged for about a week (which is extremely impressive by vape-pen standards), and the red light blinks green once it's done charging.

Using the pen requires a cartridge that screws onto the threaded tip where the USB charger is initially located. For most, purchasing a separate pre-filled cartridge will be the easiest way to jump right into using the O.pen. The O.pen company sells their own cartridges, which are generally about 30$ for half a gram, or 50$ for a full gram, although we've heard prices in Colorado are much more friendly. Though this can cost more than the pen itself, some dispensaries will throw in the pen for free with purchase of one or more cartridges. The chassis uses a standard 510 thread size, so pre-filled cartridges from any other company also utilizing this size will work with the O.pen as well. That's a huge plus for us.
The cartridge system
O.pen Vape also sells empty cartridges that will fit onto the pen. A five pack of the smallest, .3mL size, will run you about 35$. Though slightly more cost-effective, the actual action of filling the cartridges can be an involved process. A syringe full of hash oil can be purchased at dispensaries, which then has to be heated before it can successfully be loaded into the empty cartridge.
Non-liquid concentrates can be used with the O.pen as well, as long as they're mixed with polyethylene glycol, in order to give them the proper consistency. But does anyone really have time for that? And you can't load your herb into it either. All-in-all, the O.pen Vape's cartridge system is pretty restrictive.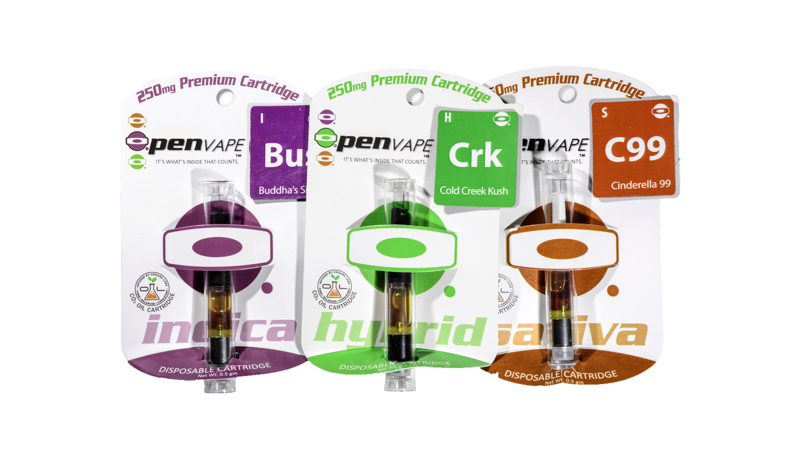 Once a cartridge full of the concentrate of your choice is attached to the O.pen, using it is as simple as inhaling. The heating element will stay activated for up to eight seconds (signifying the "Perfect puff") at which point the LED indicator on the bottom of the pen will blink.
HINT: the O.pen Vape also acts as a stylus for your smartphone or tablet, clever huh?
The Good
Since it's not much bigger than an actual pen, transporting the O.pen is easy. If carrying the whole, assembled object is too difficult, it's easy to unscrew the cartridge portion and carry each one separately.
Additionally, a significant advantage of O.pen Vape's pre-loaded vape cartridges is that they contain no carrier liquid, which means that the amount of THC contained in the cartridge is as-advertised. This makes it easier to both know the amount of THC being consumed, and allows you to create benchmarks for how much liquid-THC intake is ideal for you, if you don't already know.
Another major plus is that O.pen Vape offers a lifetime warranty. The company has sometimes but not always followed through on providing replacement parts, so it may be a gamble. However the offer is well-advertised, and anyone who's persistent enough should receive the replacement parts to which they're entitled.
Since the O.pen is one of the most inexpensive entry points into concentrates, its downsides may be inconsequential to those looking for a basic, affordable product. However, users who may have more money to spend, seek pristine functionality, and value reliability above all else will probably find what they're looking for in a more expensive product. Overall, the product is for a few specific demographics, within which it excels.
The Bad
The cartridges themselves cannot be exposed to higher levels of heat or cold, as that can cause leaking. And if some of the concentrate leaks onto the pen itself, the pen can stop working. This means that, although the pen is portable, some diligence must be paid to preventing exposure to more extreme temperatures.
It's also worth noting that at its core, the O.pen is essentially no different from a standard e-cigarette. The same product can essentially be purchased from e-cigarette retailers at a similar price point. Some users may be more comfortable purchasing their vape pen from a cannabis-specific retailer, or would just rather have a product intended for cannabis, so for them the O.pen remains a viable product. However, anyone savvy to e-cigarette mechanics may be able to find an overall more reliable alternative for the same price.
Finally, most smokers want to know which flavor/strain they're vaporizing. And unfortunately, the O.pen Vape makes that task rather difficult. The flavors between indica, hybrid, and sativa strains are nearly indistinguishable (at least in California), and often come with a hint of chemicals. Plus, we've often found the cartridges to only be ⅔ or ¾ full. That being said (and to O.pen's credit), we didn't notice any difference in the high produced by various strains, meaning it's rather consistent and reliable.
Other O.pen Products
Though their most basic model is rooted in simplicity, O.pen Vape offers a wide range of products for more advanced vape users. Their flagship pen as well as a smaller model called the Go.pen can both be customized with your name or desired message for an extra cost. They also sell a glass mouthpiece, called the Helix, that can be used with the Go.pen. The Go.pen itself is a more traditionally-styled vape pen, with a button that controls the heating element, and a small and portable design.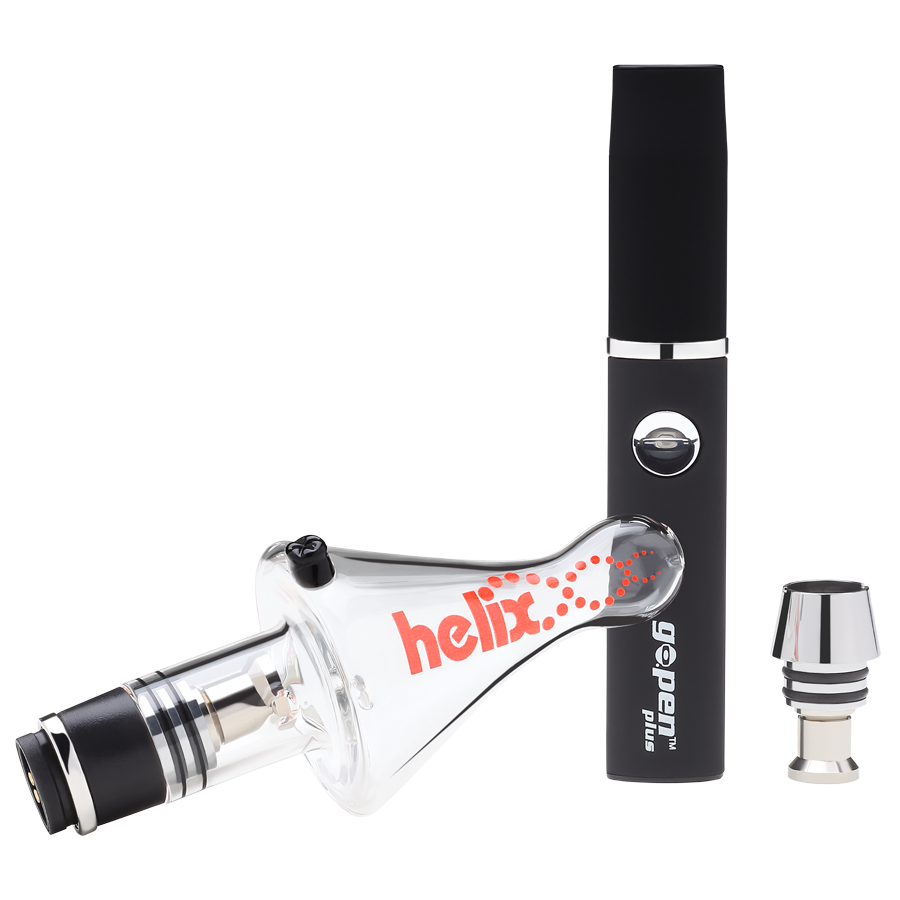 For either medical marijuana patients in search of a solid alternative to their favorite vape pen, or fans of the O.pen who are looking for an upgrade, these products do away with some of the simplicity of the regular O.pen in favor of a more complex design with increased functionality.
Customer Testimonials
"I've been an o.Pen Vape pen user for just about a year now. At first I enjoyed using them – they're quick, easy, convenient! However, after awhile you'll start to cough a little. I also noticed that I built up a tolerance to their products very quickly." —Rod 
"The easiest to use vape pen on the market." —Kathy 
"They are 510 threaded, you can use them on most any -ecig thing. I've had/used about 20 cart[ridges] from them. 2 of them leaked (early on in my usage, so it might have been my fault). dispensary replaced both carts. to make sure it wasn't the problem, they replaced my battery unit too." —aManPerson
Should I Buy the O.pen?
The biggest selling point of the O.pen has to be its simplicity, hands down. It can be transported, refilled, and charged all with minimal hassle. The biggest downside? Probably the restrictive cartridge system, which makes it very difficult load your own cannabis oils and concentrates. Considering your best bet is to use the vape pen with the vape cartridges made by O.pen, it further exacerbates the problem by forcing you to seek out said vape cartridges, which might not be readily found at dispensaries near you.
The O.pen is highly recommended for both users new to concentrates, the cost-conscious, and elderly patients who struggle with loading, activating, and cleaning a vape pen. It's basically the most simple product you'll find on the market.
However, small issues, like a leaking cartridge or an inability to find pre-loaded cartridges, may render the product unusable for some. All bars aside, for the accessible vaporizing product it aims to be, the O.pen is a big success.
Where to Buy O.pen Vape Pens and Cartridges
While we love sharing awesome content on our blog to help cannabis patients better understand the plant they love, we're also pioneering the way for easy, quick, and professional cannabis delivery.
Nugg lets you find and order delivery online from local cannabis dispensaries in more than 60 California cities, including San Francisco, Los Angeles, and San Diego. Think of it like GrubHub for cannabis. It's free to use, every order is backed by 24/7 Customer Service, and you can choose from thousands of marijuana products across hundreds of dispensary menus. Just click the button below to start shopping dispensaries in your area!

1 Comment
So what's all the rave behind "liquid THC," right?
After all, vaporizing flavored liquid nicotine—known to most as "vaping"—has caught on in a big way in recent years, there's no doubt about it. But what you may not know is that it's also paved the way for cannabis-lovers to take their consumption to new heights.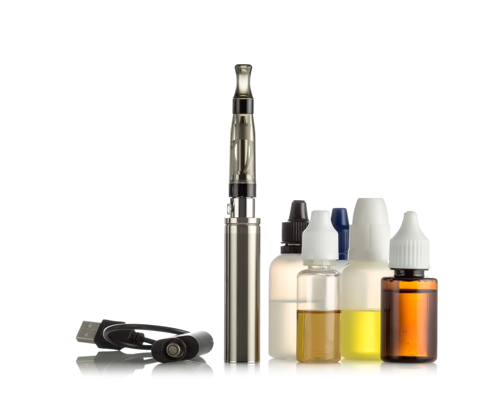 Though precursors to modern day e-cigarettes have existed since the 1960s, vaping as we know it grew to prominence around 2010, after the "cartomizer" was invented in 2006. Today, this futuristic method of nicotine intake has become popular enough to justify thousands of businesses dedicated solely to a growing number of e-cigarette devotees.
But what about the marijuana-mans and cannabis fans? Have we been left in the dust? Absolutely not.
As most medical marijuana patients know, vaporizers are a popular method of cannabis consumption. But traditionally, cannabis vaporizers differ in appearance from the long and slender e-cigarette design.
For example, one of the most popular vaporizers is the Magic Flight Launch Box. It sports an unconventional wooden design aimed at providing a portable and discreet way to vaporize marijuana. On the other end of the vaporizer spectrum is the Volcano Vaporizer, which is as large and costly as a kitchen appliance, but unparalleled in heat control and efficiency.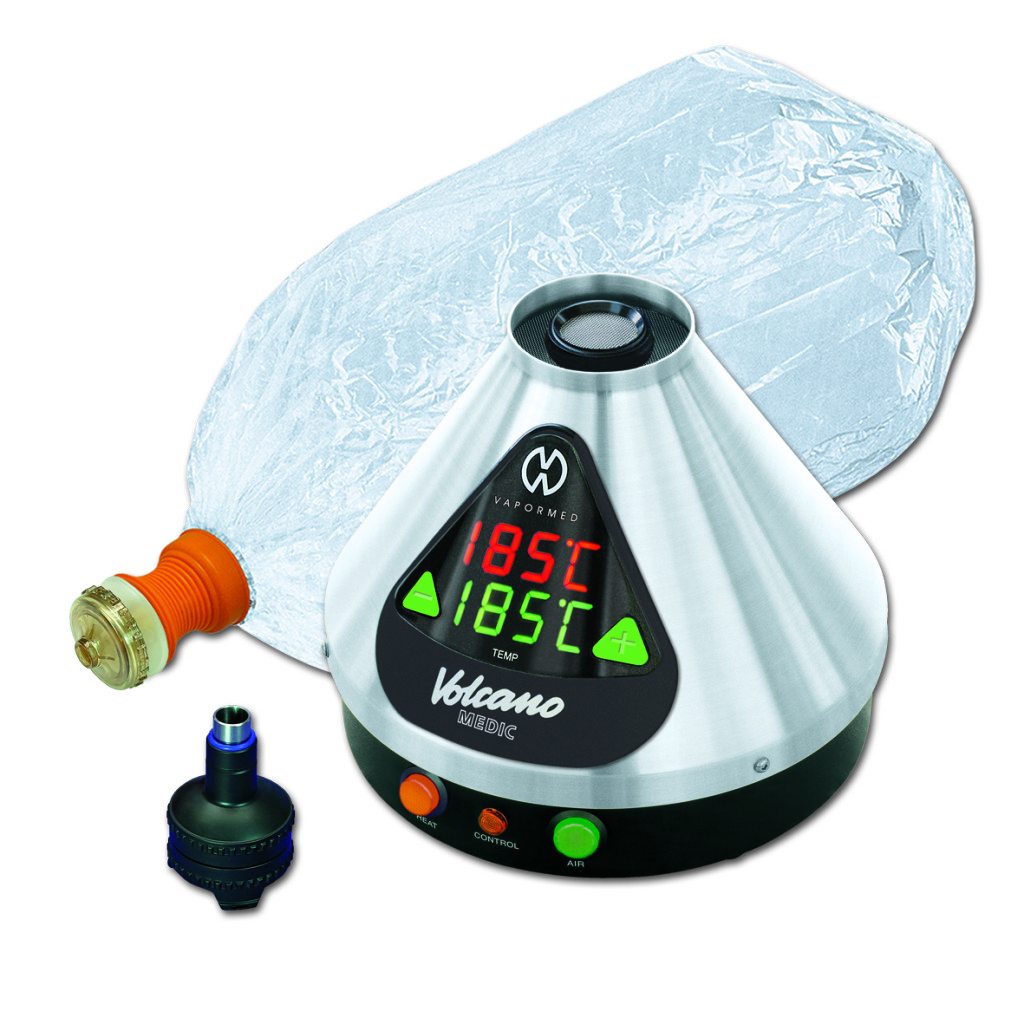 It wasn't until recently, however, that a middle ground between e-cigarettes and cannabis vaporizers was achieved, dawning a new age of cannabis e-liquids.
Beyond the Vape Pen: The Birth of Liquid THC
Somewhat similar to how Kleenex has become synonymous with tissue, or Coca-Cola with soda, the Grenco Science G Pen set the standard for vaporizer pens. Similar in design to sleeker and thinner e-cigarettes, the G Pen—no longer the industry standard, but now merely one amongst many capable vape pen products—was initially created to be used solely with marijuana concentrates. In fact, the official Snoop Dogg model G Pen is designed to be used for vaporizing ground herb.
However, demand eventually called for vape cartridges to be optimized for other forms of marijuana intake, which leads us to…
Liquid THC, a.k.a cannabis e-liquid. It's designed to mimic the liquid nicotine used in e-cigarettes, except for consumption by cannabis users. Though a relatively new way to consume cannabis, it's already been quick to fire up support in the public sphere: in 2014, comedian Sarah Silverman was spotted carrying a vape pen filled with liquid THC on the Emmy's red carpet.
Liquid THC is generally sold in either pre-filled vape cartridges designed to screw onto a variety of vaporizer pens, or in more cost effective dropper bottles, allowing users to refill vape pen cartridges themselves. In either case, many of the benefits sought by e-cigarette users—namely portability, less harsh smoke, and discreteness—are also at play.

What is Liquid THC?
What makes liquid THC different from other concentrates is, as its name would suggest, its high THC content. Traditional concentrates, like butane oil or shatter, generally contain somewhere in the range of 50-70% THC. Liquid THC, on the other hand, has tested up to 90% in THC content.
For those who prefer the effects of THC over the other active ingredients in marijuana—amongst which are cannabidiol (CBD), cannabinol, cannabaverin, cannabigerol, and other compounds—liquid THC is quite possibly the purest and most efficient form of THC intake.
These additional compounds offer their own physiological or pharmaceutical benefits, and though THC still acts as the primary active ingredient in most strains of medical marijuana, some may prefer the amounts of these additional compounds found in standard bud. However, for users who have determined the effects of THC to be most to their benefit, consuming its liquid form is a great way to experience its isolated effects.
Effects of THC
Most savvy smokers are familiar with THC (which is short for delta-9-tetrahydrocannabinol, in case anyone was wondering) as the primary psychoactive ingredient in marijuana. THC gets users "high" by binding to protein receptors in the brain. As long as the chemical remains active, the classic symptoms of a cannabis high are experienced by its users, amongst which are distortion of time, euphoria, and greater receptiveness to stimuli like food and laughter.
Furthermore, THC is thought to be the compound that helps most with sleep. CBD on the other hand, while generally contributing more of the medicinal effects associated with cannabis, can otherwise promote wakefulness.
Cannabis users prone to anxiety should take caution when considering liquid THC. While CBD is thought to calm users and reduce anxiety, THC can sometimes worsen anxiety or paranoia. For anyone who has experienced debilitating anxiety or paranoia as a side-effect of consuming marijuana, liquid THC is best taken cautiously, or avoided outright.
How to Make Liquid THC
Anyone who would rather bypass unregulated products altogether, or otherwise has DIY inclinations, making liquid THC at home is possible with a few, mostly standard household items and ingredients.
Ingredients
Propylene Glycol (available online and at some pharmacies)
Good quality cannabis, around 6 grams
High proof grain alcohol—everclear, for example. DO NOT use isopropyl alcohol
Two mason jars
5ml dropper bottles
A cheese cloth
A baking sheet lined with aluminum foil
A kitchen pot
An oven
STEP 1:
Start by decarboxylating the marijuana. This essentially "activates" it, which normally occurs via combustion or vaporization. This can be done by baking ground or broken up cannabis on a foil-lined baking sheet in an oven heated to 240 °F for 30 to 40 minutes, stirring it periodically so it heats evenly. The cannabis can then be ground in a food processor for more efficient extraction. By the end, it should be brown in color.
STEP 2:
Add the bud to one of the mason jars, and fill it with the high proof grain alcohol until the liquid is a little more than covering the plant material. Make sure the opening of the jar remains uncovered.
STEP 3:
Fill the kitchen pot with a few inches of water and add the jar from the previous step. Bring the water to a boil on the stove, reducing the temperature once it's boiling. This evaporates some of the alcohol, and makes sure that THC is absorbed into the alcohol remaining in the jar. Once the alcohol has turned a darker color, and is just barely covering the cannabis, remove the jar from the stove, and add more alcohol, returning it to its original level or a little higher.
STEP 4:
Filter the bud out the alcohol, now containing the extracted THC. This can be done by placing the cheese cloth over the second mason jar, and pouring the contents of the full jar into it, so the bud is caught on the cheese cloth. Then squeeze the bud to make sure the maximum amount of liquid is filtered.
STEP 5:
Repeat Step 3 with the jar now containing just the liquid. However, make sure to use water that isn't already boiling so as not to crack the glass from a difference in temperature. Evaporate enough of the liquid so that just 5ml is remaining. You can use the dropper to determine the volume left in the jar.
STEP 6:
Use the dropper to add 20ml of propylene glycol to the jar and shake or stir the mixture to add some extra potency. Your liquid THC is now usable!
TIP: Make sure your kitchen is ventilated, and as with any process involving open flames and alcohol, be sure to exercise caution.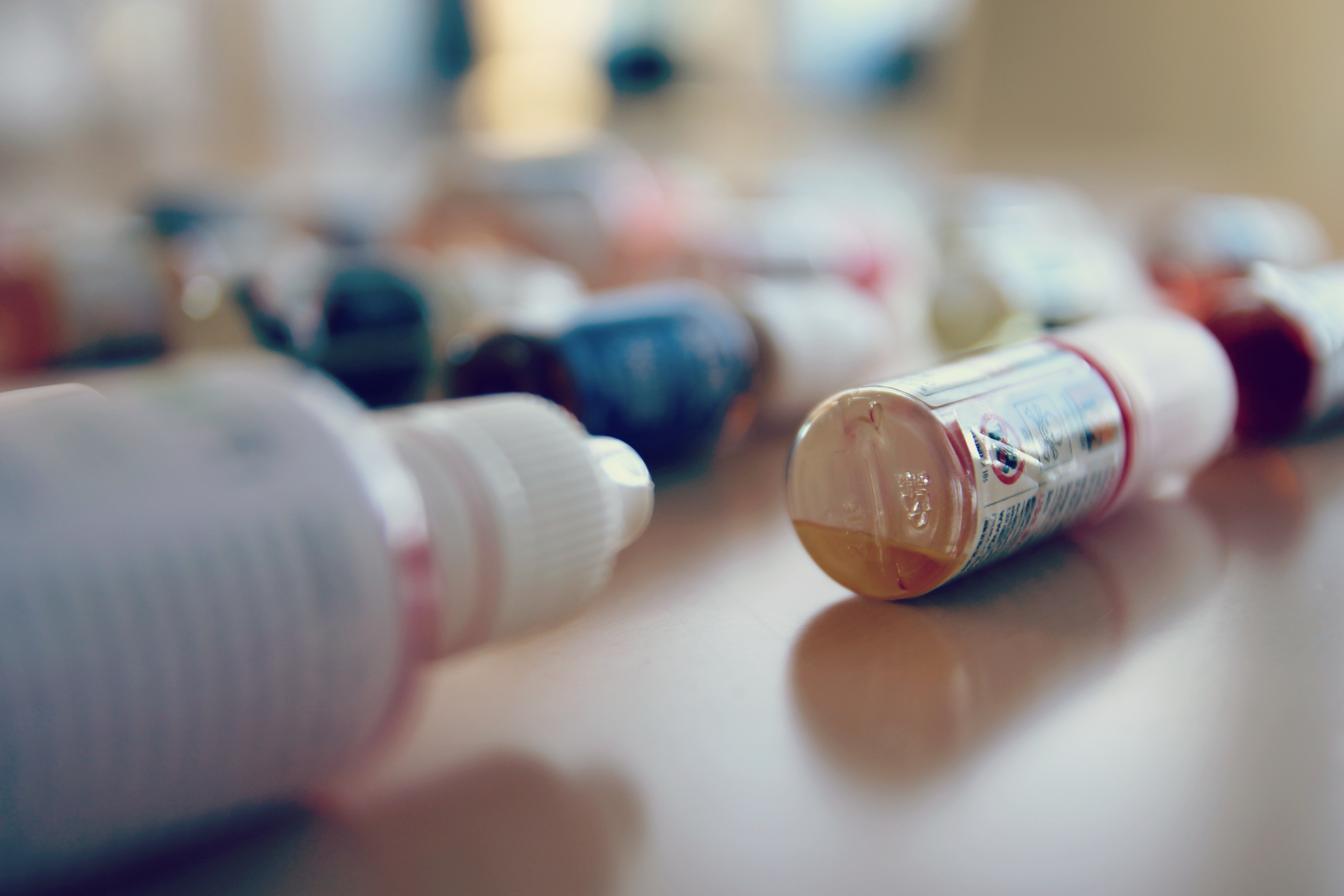 Where to Buy Liquid THC
Before buying liquid THC, it's worth noting that currently there are no regulations on its production. This means that hypothetically, other compounds could be added to liquid THC products by disreputable vendors looking to turn a greater profit. So, before buying a liquid THC product, it would be prudent to find feedback from other users who can vouch for the brand's credibility.
Another option is to turn to a trusted brand like Nugg for your cannabis-related purchase decisions. We curate a list of the best cannabis providers across California, make their menus easily accessible online, and let medical marijuana patients like you place orders for delivery from any device.
Our site offers easy-navigation as well, with a search function that allows you to see which marijuana dispensaries in your area carry the products you're looking for. You can even compare prices for all products found in your area.

In Conclusion…
Like any medical marijuana product, liquid THC isn't without a few risks of which any user should be aware. However, if the effects of THC are to your liking and you have either determined a brand to be reputable, or opted instead to make it yourself, liquid THC is a modern and specialized way to add variety to cannabis consumption.
Leave a Comment
In 1936, a church group financed a film titled Tell Your Children, intended to depict use of marijuana (or "marihuana" in the terminology of the film) as a one way ticket to crime and debauchery. It was soon purchased by an exploitation film producer, who re-released it as Reefer Madness. The entirety of the film is rooted in baseless scare tactics, written not to educate viewers about potential risks of cannabis use, but to make marijuana look really, really bad.
In the 1970s, when cannabis counterculture was on the rise, the film became an ironic cult classic, and is still screened to this day. Though public perception of marijuana is following an upward trend in terms of acceptance, some law and policy makers are still influenced by less extreme but nonetheless analogous rhetoric to the same, unsubstantiated propaganda found in the film.
But rather than focus on these modern day echoes of some of these unfounded allegations, today's viewers opt instead to make light of what's ultimately a ridiculous and poorly made film. Something about the idea that marijuana leads to murder is so funny that it's remained a cult classic for the forty odd years since its rediscovery.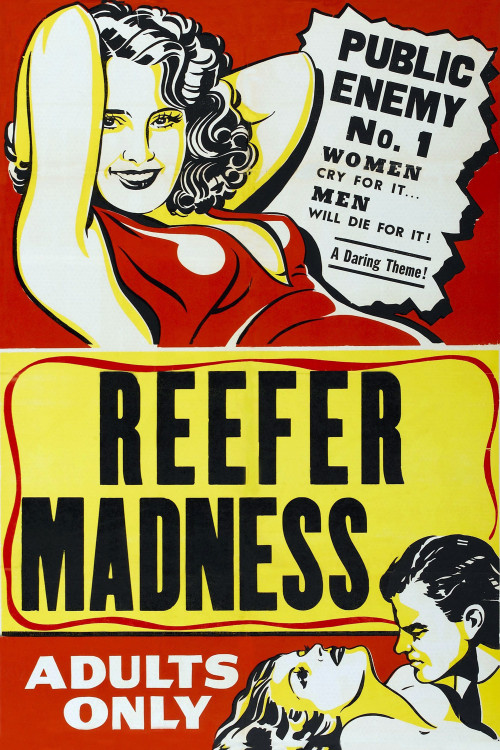 A poster for Reefer Madness
The Rise of the Stoner Comedy
Around the same time that Reefer Madness got big, Cheech Marin and Tommy Chong invented the stoner comedy. In my eyes, this dynamic duo is a quintessential example of why weed makes you laugh. Though they had been a popular comedic duo for years before the release of their debut film, it was Up in Smoke in 1978 that laid the foundation for the still thriving subgenre.
What, exactly, constitutes a stoner comedy is up for debate. Films like Half Baked or Pineapple Express, whose plots revolve entirely around weed, are unarguably stoner comedies that make you laugh. Other films, like The Big Lebowski or Clerks, feature plenty of marijuana use and are generally enjoyed by pro-cannabis audiences, but have enough fans within the filmgoing public to generally not be pigeonholed into the subgenre.
However, it's a testament to the comedic viability of marijuana that critically acclaimed directors like Joel and Ethan Coen (of The Big Lebowski and many other great films) would make it a focal point of possibly their most beloved comedic film. Likewise, Pineapple Express was well received and earned more than double its high Hollywood budget.
So… Why Does Weed Make You Laugh?
Marijuana is funny for two directly related reasons: weed makes you laugh, and it's fun to laugh about weed.
This first reason is the more obvious one. Though Reefer Madness has probably been enjoyed by some sober viewers, it's no coincidence its popularity spiked in an era when marijuana use was beginning to become far more widespread. The change in perspective that often accompanies cannabis-induced inebriation can be enough to make something totally normal—say, typical living room furniture or the way a friend says a certain word—seem inexplicably funny. To the minds of those under the influence, absurd stories about marijuana can seem like comedy gold.
A classic sequence from Dave Chappelle's Half-Baked introduces audiences to the Enhancement Smoker, played by Jon Stewart. He asks Guillermo Díaz's character if he's ever seen Scent of a Woman (he has). But more importantly, has he ever seen Scent of a Woman… on weed? This is absurd not because Stewart's character is smoking pot and watching movies, but because he's championing Scent of a Woman, of all possible films. In large part, the Enhancement Smokers of the world are to thank for the lasting popularity of films like Reefer Madness and Half-Baked.
Even audiences a little more hostile towards marijuana than the average person may still find material about weed funny. Take The Big Lebowski as an example: its central characters are not just dumb, but profoundly dumb; heroic, some might say, in their stupidity. But, like the archetypal cinematic stoner, they may not always be responsible human beings, but they will always come through with lots of laughter and positive vibes.
These character traits are far from indicative of all marijuana users, but are uniquely compelling due to the low-stakes fun implicit in marijuana use. "Low-stakes" is the key term here: the comedy of most stoner films relies on mining this low-stakes fun for any and all comedic potential. This is how a stolen rug in the beginning of The Big Lebowski results in multiple near-death experiences later on in the film.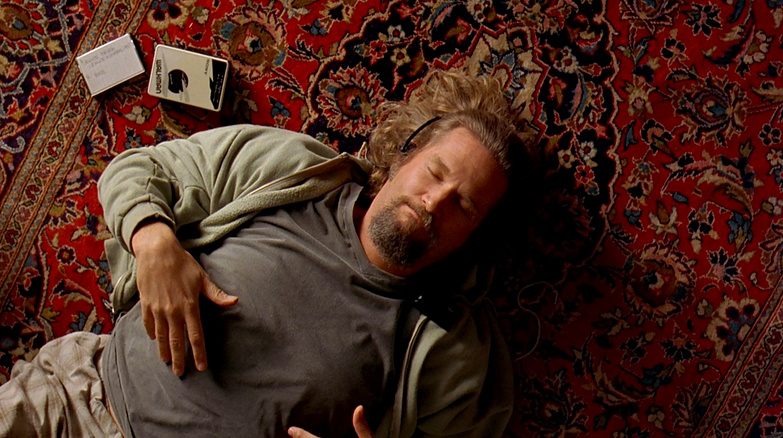 Jeff Bridges as "The Dude" in The Big Lebowski
Exactly why marijuana tends to induce laughter is up for debate, though scientists have come up with a few significant theories. One study attributes increased blood flow to the right frontal and left temporal lobes of the brain, which are regions of the brain associated with laughter. Exactly how much these regions are stimulated has not been concluded, however, so this could be the sole contributing factor, or one of many. Another theory involves the capacity of cannabis to work as an antidepressant. Mood is thus improved, and most likely—though not conclusively proven—a good mood makes people more likely to laugh.
Stoner Comedy in 2016
Like most other art forms, stoner comedy is evolving alongside technology. Internet memes are one way acolytes of our current technological paradigm are sharing weed jokes with one another. Reddit's hugely popular r/trees board is one notable source of cannabis-related memes.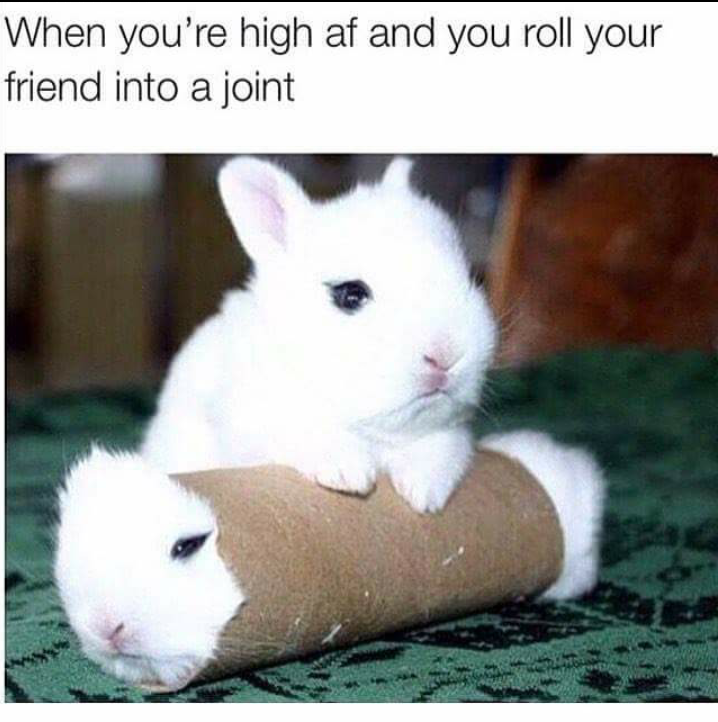 A popular image posted to the r/trees board by user KittyChanelle5
On Facebook, the terminology for a high quality meme is taken directly from cannabis culture (the term is "dank meme.") With currently more than 21,000 likes, a page called Bernie Sanders' Dank Meme Stash is one of the top hubs of support for the presidential candidate outside of his official fan pages. The page is so popular, Vice recently published an article about it.
Or consider comedian Doug Benson, who's championing a newer, purer kind of stoner comedy. Benson is the first comic to develop a successful podcast based on live consumption of medical marijuana. The show, titled Getting Doug with High, has featured Jack Black, Margaret Cho, David Cross and many other successful comics under the influence of cannabis alongside Benson.
It's no surprise that jokes about marijuana follow new opportunities allowed by advancing public policies and technologies. Marijuana will always be funny to both those under its influence, as well as those who enjoy the laid-backness of stoner comedy.
As long as people are still creating online content, there will be new memes about weed—and fortunately, a lot of them are pretty funny.