How to Apply for the Oklahoma Medical Marijuana Program

Oklahoma voted medical marijuana into law on June 26, 2018, and has since signed granted over 145,000 patient and caregiver licenses. Patients licenses are valid for up to two years, and unlike other states, applicant's need not have a "qualifying condition" to be approved.
To apply for a patient license in Oklahoma, you will have to provide the following:
Your full name
Your place of residence and mailing address
Your date of birth
Your contact information, including telephone number and email address
Your doctor's information and recommendation
Your signature, which must be dated within 30 days of the date of application
A full color digital photo of your head and top of shoulders taken on a white, or off-white background. (The photo must have been taken within the past 6 months.)
Keep in mind that only Oklahoma residents will be approved for a regular state license, although temporary licenses are available for visiting patients from other states. Applicants for a regular state license must prove they're residents by providing a valid driver's license, utility bills, or other accepted documents.
There is an application fee of $100. Medicaid (also known as SoonerCare) or Medicare applicants pay a reduced fee of $20. You must use a MasterCard, Visa, or Discover credit or debit card for payments. Prepaid cards from stores are also accepted.
Your transaction may include additional processing fees, which are non-refundable. Unapproved applicants are not subject to a refund.
Additionally, the application must be submitted within 30 days of the doctor's appointment to be valid.
After the Application is Submitted
The OMMA reviews all submitted applications. If it meets all requirements, the OMMA will issue an approval letter with your license. Then your card will be mailed within 14 days of the date you submitted your application.
Incomplete applications will receive an email which details the reason(s) the submission is incomplete. You can log back into your account to make the needed corrections.
If the Department denies your application, you will receive a denial letter listing why it was rejected within 14 days of the date of submission.
You Can Include a Caregiver if You Need Help
Caregiver licenses are available for those who wish to take care of certain patients who need assistance with their treatment. This documentation can be obtained by filling out the Adult Patient Physician Recommendation Form. An application can be provided when submitting your application, or at a later date. The form can be accessed online using your OMMA account. A patient is allowed one caregiver at any given time.
The caregiver must be 18 or older and must submit proof that they are a resident of Oklahoma. There are no other parameters to qualify.
You can change your caregiver. Patients must submit a Patient Withdrawal of Caregiver Form to withdraw the first person before designating another caregiver. The patient is required to sign and submit a new Adult Patient Caregiver Designation Form for their desired new caregiver.
What Conditions Qualify for Medical Cannabis Treatment in Oklahoma?
Unlike other states, there's no list of qualifying conditions in Oklahoma – making it a rather unique and unrestricted program.
Oklahoma's State Question 788, the initiative that legalized medical cannabis, says "There are no qualifying conditions. A medical marijuana license must be recommended according to the accepted standards a reasonable and prudent physician would follow when recommending or approving any medication. No physician may be unduly stigmatized or harassed for signing a medical marijuana license application."
While there are no qualifying conditions in Oklahoma, you must still be able to show that you will benefit from the use of cannabis. When visiting the doctor, be sure to have documents to demonstrate your medical needs. Documents include:
Patient records and charts in detail
Records of any physical therapy
Current prescriptions being taken
All hospital visits made by the applicant
Medical test results
Once approved by their physician, applicants will need to apply through the state's online system. Applications and payment are collected via omma.ok.gov. To login, applicants must use a valid email address which will be used to receive notices.
Submit Your Application at the OMMA Website
Applications are only being accepted at omma.ok.gov.
The following unexpired, valid documents can be used when submitting proof of residency online:
1) Proof of state residency – Digital, color copies of any of the following can be used:
Oklahoma driver's license (front and back is required)
Oklahoma identification card (front and back is required)
Voter I.D. license
Certain utility bills. The calendar month must precede the date of the application. This excludes cellular telephone and internet bills
A deed to any residential property in Oklahoma
A current in-state rental agreement for residential property
2) Proof of identity – Digital, color copy of any of the following will suffice:
Oklahoma driver's license (front and back)
Oklahoma state I.D. (front and back)
U.S. passport or other U.S. government issued I.D.
Tribal I.D. cards, which must be approved for identification purposes by the Oklahoma Department of Public Safety.
U.S. Bureau of Indian Affairs identification card
3) A digital photograph of your full face
4) An Adult Patient Physician Recommendation Form that is dated 30 days or sooner than the application's submission. NuggMD will provide users with the form.
5) SoonerCare (Medicaid) or Medicare I.D. card or enrollment documentation if you're applying for the discounted registration rate of $20.
The NuggMD Process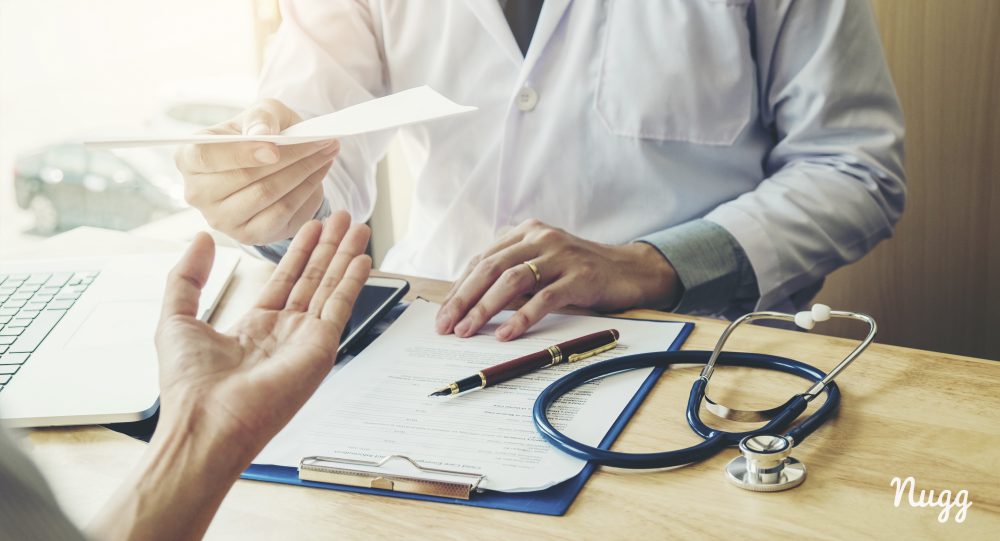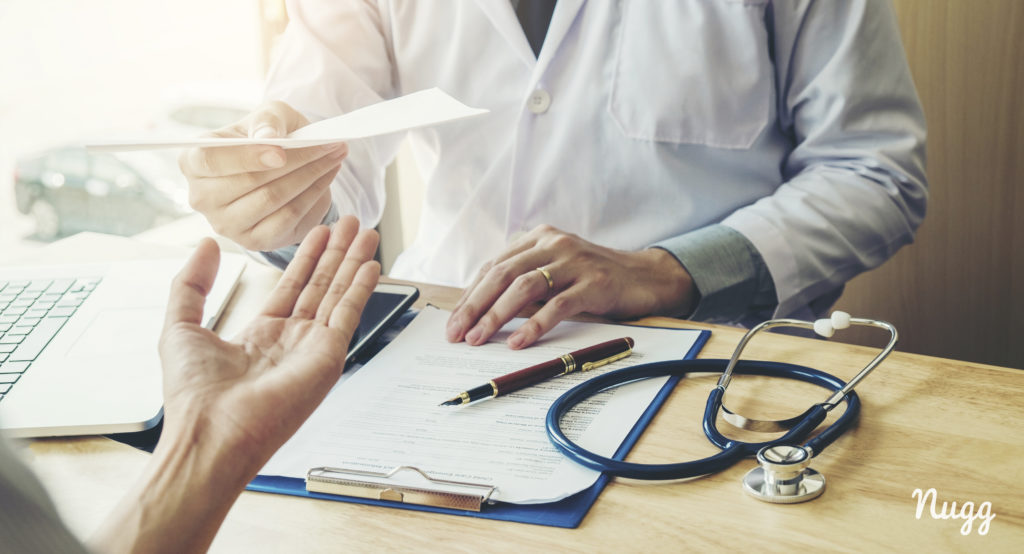 When applying with NuggMD, applicants take the following steps:
1) Create a NuggMD account at nuggmd.com.
2) Choose the state in which you wish to apply.
3) Enter your required information, including age, name and address.
4) Fill out your medical history. Provide as much detail as you can to ensure your doctor will have all the information they need to evaluate your condition.
5) Input your payment info while waiting in the NuggMD virtual waiting room.
6) Once available, the physician will begin the medical evaluation using NuggMD's telemedicine platform. The session can be as long or short as needed. Don't hesitate to ask questions about your prognosis, how cannabis will fit into your treatment plan or anything else related to your visit.
A few of the more common questions asked during consultations include:
Should I take CBD as well?
What's the best method of ingestion for me?
Should I use more than one method of ingestion?
What dosage should I use?
How often should I consume?
Will any other medications or herbs I'm using affect my cannabis treatment?
Are there any health risks I should be concerned about?
Give your doctor a complete understanding of your health. Tell them about every medicine, supplement and vitamin you are taking. Doing so will allow them to warn you of any possible adverse drug interactions to be aware of.
NuggMD patients only pay $149. This is in addition to the cost of the online application.
Those who are approved receive instructions on how to complete the state registration. The instructions will arrive via email.
Don't worry if you get confused during the process. Our expert customer service team is here to help you through the process.
What Cannabis Consumption Methods Are Available in Oklahoma?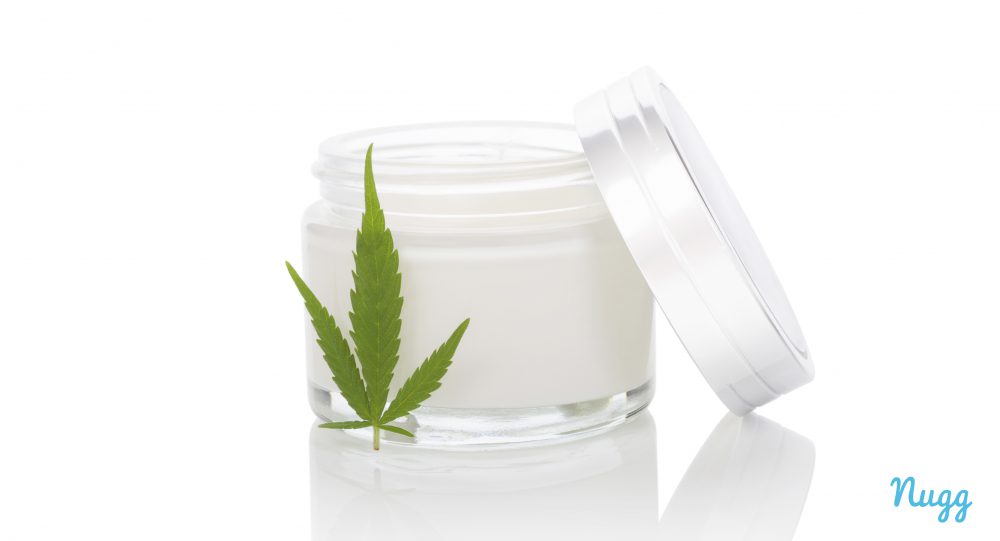 All methods of consumption are available. This includes:
Smoked or Vaporized Cannabis: The effects typically take moments to minutes and can last two to three hours at a time.
Concentrates: These oils are versatile in usage. They can be added to smoking flower, used in edibles or even done in a dab. Keep in mind that extracted cannabis oil is much more potent than dried flower. When smoked, the effects should appear in a few minutes.
Edibles: Often taking a half hour to two hours to kick in, edibles are longer-lasting options. They are incredibly potent, but due to their delayed onset effects, many overconsume. Be sure to start on a low dose and go slow from there.
Topicals: Cannabis can penetrate the muscle but not into the blood with creams and balms. Taking near immediate effect, topicals are a popular choice among many users with body pains.
What Does Cannabis Feel Like?
If you've heard that cannabis will make you giggly, happier and relaxed, then you have a broad understanding of how marijuana feels. Depending on the strain, these effects and others can be more or less prominent in the experience. Other common effects of cannabis include:
Changed perception of time
Decreased energy, colloquially called "the couch lock"
Giggles
Happiness
Increased energy
Loss of concentration
Relaxation
Temporary memory loss
There's also the occasional horror story depending on tolerance and/or dose. If you've had a little too much, you may feel somewhat disconnected from reality or experience some paranoia, possibly even hallucinate on a rare occasion. You may find yourself becoming more introspective and less outgoing. This may be coupled with a burst of creative energy.
In truth, both positive and negative effects vary from person to person. Until you know how you'll react to cannabis, plan pleasant activities. Be around people you are comfortable with when you consume. Consider being in a place that makes you feel happy and comfortable as well.
And do NOT drink alcohol. It'll most likely create an unpleasant effect of being way too intoxicated, resulting in a headache, room-spinning and even vomiting. Some may know it as being crossfaded.
What to Do if I Consume More Than I Should?
One of the most common and unpleasant side effects of marijuana overconsumption is anxiety. Individual levels vary by person, with stronger tolerances playing a factor. Remember, just because one friend can consume 25mg or more doesn't mean you need to in order to feel the same effect. If you consume more cannabis than your tolerance allows, you're very, very likely to become anxious.
Do your best to remain calm if you find yourself in this situation, and don't be embarrassed. You aren't alone. Many cannabis patients can tell you exactly what it feels like to have a panic attack after consuming a heavy dose.
Once you're back to your normal self, call your doctor and have your dosage adjusted. Believe it or not, some people get extremely high from doses as small as 2.5mg THC. Each person metabolizes cannabinoids at varied rates. At the same time, consider having some CBD oil on hand. For some, it can help offset the effects of THC during these rare occasions.
Be sure to use the old cannabis adage "start low and go slow"! We can't say this enough. You can always consume more, but you can never consume less. So, don't rush it. Be patient. Listen to your physician's instructions for ideal results.
Let's Discuss Cannabis Hyperemesis Syndrome
It's true that no one has died of an overdose from cannabis. However, you run a chance of developing Cannabis Hyperemesis Syndrome. If you experience symptoms such as severe vomiting, be sure to seek medical attention. Excess vomiting can cause dangerous dehydration and metabolic imbalances, so this really is a medical emergency.
And not to state the obvious, but if you're under the influence of cannabis, get a ride to seek medical attention. Never attempt to drive yourself.
Cannabis Hyperemesis Syndrome is on the rise as more consumers take more significant doses of THC. The cause of the condition is unknown. It's believed by some that CHS is the result of the over-stimulation of the body's CB1 and CB2 receptors brought on by large doses of THC.
Cannabis Hyperemesis Syndrome seems to happen in three stages:
The Prodromal stage is most mild nausea and pain in the stomach. In some cases, this can lead to a brutal cycle where patients consume more cannabis thinking it will relieve the condition. This is a process that can last for months, even years.
The Hyperemesis stage is where the patient begins vomiting in larger amounts. They may suffer from dehydration and malnourishment due to an inability to hold anything down. A hot shower is often considered the only temporary source of relief from the nausea. See a doctor right away if this occurs.
The Recovery stage begins after cannabis use ceases. Relief tends to come in days once the person stops consuming. That said, it can take months to fully recover. If cannabis use is reintroduced, the symptoms run a high probability of returning.
It is not certain why some consumers develop the condition and others do not. Meanwhile, some continue to dispute its validity.
That said, this is the state of cannabis today. It is a biphasic drug that offers varying effects at different dosages, and that threshold varies from person to person. This is  why it is vital to consume cannabis cautiously and responsibly.
Scientists can't yet pinpoint who is likely to develop cannabis hyperemesis, as it can be a months-long process to develop. So, again, be sure to start low and go slow, listen to your body, and contact the doctor as soon as possible if you start to notice nausea or stomach discomfort.
Following the Law in Oklahoma
Oklahoma has the highest prison population per capita. Not just in the U.S., but the world. So, it's best to remain on the right side of the law.
The state's medical marijuana laws say that if you don't have a patient license, but can show that you have a medical condition, then possession of up to 1.5 ounces without a valid card is a misdemeanor offense with fines not exceeding $400. Possession of any more can result in possible jail time. That said, drug paraphernalia remains illegal for non-card holders, who could face jail time. Card holders are exempt from the law.
Counties are allowed to determine how they prioritize non-violent cannabis offenses, which means people can still end up in jail for marijuana. In some cases, DAs have reportedly refused parolees the right to use medical cannabis, even if they have a card. Reports have also claimed that some DAs are instead steering offenders towards opiate-based options.
According to H.B. 1441, those driving under the influence of a Schedule 1 substance will be jailed for anywhere from 10 days to over a year, with their license possibly suspended for up to three years. This prohibition against driving under the influence applies to medical cannabis users as well. So your card won't save you if you're driving while high. Oklahoma also allows for property and vehicles to be seized in cannabis cases.
Additionally, while employers can't discriminate against patients, consumption at work can still be restricted by the employer. The same goes for consumption in public places, just like tobacco and alcohol.
You cannot buy your cannabis anywhere but from an OMMA licensed medical marijuana dispensary, and you can't sell your cannabis to anyone unless you're a state-licensed dispensary. You also can't give away your cannabis, not even for free to another patient, as unfair as that seems. And don't even consider taking it out of state, whether or not that state allows cannabis use. It's a federal crime to transport medical marijuana across state lines, and the penalties are very severe.
Need Help? Nugg's Here for You
Nugg's eager customer service team answers hundreds of questions each and every day via live chat and email. They think outside the box to help solve your cannabis problems. If there is a solution, they'll find it to the very best of their abilities.
On the rare chance that Nugg is unable to help, the list below has information and links to Oklahoma legislators, regulators and some of the more active cannabis advocacy organizations. If you know of any other organizations we could add to this list, we'd love to hear from you.
Also, consider using this list to become more active in medical marijuana legislation. We've made great strides with legalization, but the battle for freedom of choice still rages on. It's not time to rest on our laurels at this point. Please consider joining the marijuana community as we endeavor to end the War on Drugs once and for all.
Additional Resources
Medical Marijuana Registry
Oklahoma Medical Marijuana Authority
PO Box 262266
Oklahoma City, OK 73125-2600
Legislators
Activist Organizations
Frequently Asked Questions About Medical Cannabis in Oklahoma
Where can I read the law for myself? 
Visit here for the full text: http://omma.ok.gov/Websites/ddeer/images/SQ%20788.pdf
How long does my patient's license last?
Your license can last for up to two years before it needs to be renewed, unless your doctor establishes a shorter timeline for use.
Can I use my medical marijuana card from another state?
Out of state patients can obtain a temporary license for up to a month. The out of state license will cost $100, regardless of participation in public health programs or financial need. Do not make the mistake of using cannabis in Oklahoma without this license. The penalties for unlicensed possession can include jail time. It may seem unreasonable to pay the state $100 for the right to legally use cannabis for a short trip, but this expense is nothing compared to legal costs of defending yourself against illegal possession charges. To apply for your temporary card, go to the state's website here and follow the instructions: http://omma.ok.gov/temporary-adult-patient-application-information1
How do I find a medical cannabis doctor?
You can find a list of approved physicians on this list provided by the OMMA, or simply head over to NuggMD to complete the entire process online: http://omma.ok.gov/Websites/ddeer/images/MM%20Registered%20Physicians.pdf
Is home growing allowed?
Yes, all licensed patients are able to cultivate at home. For specifics on amounts, check the question below.
How much cannabis am I allowed to possess for medical purposes?
Under Oklahoma laws, qualified patients or caregivers can legally possess up to three (3) ounces of medical cannabis. Approved patients are allowed to own six (6) mature plants as well as one (1) ounce of cannabis concentrates. They can also possess up to 72 ounces of edibles in addition to having up to eight (8) ounces of cannabis at their house.
What are the requirements for a minor to obtain a license?
Minors can obtain their medical marijuana license to possess, use and grow cannabis in Oklahoma. The minor must have signed recommendations from two different physicians as well as the signature of their parent or guardian. To learn more, visit http://omma.ok.gov/minor-patient-application-information1.
Will my information be kept private? 
Yes, personal medical information will remain private, as will your application. The OMMA's registry is protected by HIPPA, and all records are confidential.
Will every dispensary sell the same products?
No, unlike other stores, dispensary supplies will vary. If you're looking for a specific product, consider calling ahead to make sure the dispensary has the product you need.
Leave a Comment
There were a lot of disappointed New Yorkers this week. Governor Cuomo's promise to legalize cannabis in the state has been an up and down battle for the past few months. A bill to fully legalize cannabis made enormous progress through the state legislature, but was finally shut down due to inability to agree on social justice and regulatory issues.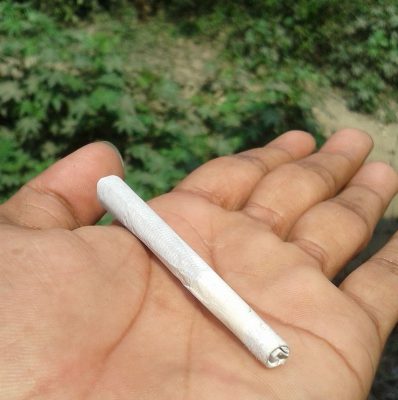 Instead, the legislature did the next best thing–they further decriminalized cannabis possession, and promised to begin expunging cannabis criminal records. The bill was passed in the last legislative hours by both the State Assembly and Senate, and is now headed to the governor's desk, where he is expected to sign it.
You can read the bill here.
In short, the bill says:
Possession of under two ounces will no longer be a criminal offense, and fines will be reduced.
A person is guilty of unlawful possession of marijuana in the second degree when they knowingly and unlawfully possesses marijuana. The fine will be $50.
A person is guilty of unlawful possession of marijuana in the first degree when they knowingly and unlawfully possess one or more preparations, compounds, mixtures or substances containing  marijuana and the preparations, compounds, mixtures or substances are of an aggregate weight of more than one ounce. The fine will be $200.
Procedures will be established to automatically expunge criminal records for possession.
Smoking marijuana has been added to the official definition of "smoking" under Public Health Law so that cannabis smoking can be prohibited wherever tobacco smoking is prohibited.
It's not legalization, but it's a start!
Meanwhile, remember that these fines only apply to unlawful possession of cannabis. If you're considering using cannabis medicinally and have a qualifying condition for medical cannabis use, you can become a registered patient to use cannabis products legally. To find out if you qualify, contact NuggMD for an appointment today.
Leave a Comment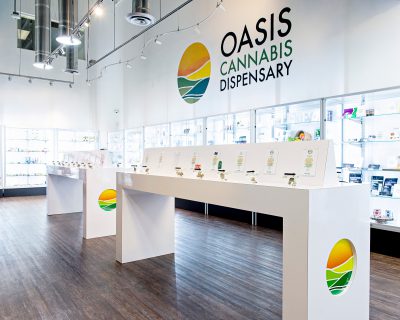 You don't have to travel far from The Strip to find one of the most customer-centric cannabis dispensaries in the nation. Oasis is Las Vegas's one-of-a-kind experience in cannabis curation, and now they're taking their already stellar service up a notch.
Whether you're a patient seeking an exotic product, or recreational customer looking for the perfect bud to pair with your night on the town, Oasis has transformed their dispensary to meet your needs like never before.
New Design, Same Great Service
One thing Oasis' facelift won't be affecting, however, is their great personality. "While we have upgraded their shopping experience, the one thing that's NOT changing is our mission," says Matthew Janz, Vice President of Marketing and Operations.
"That mission is to provide our customers with the best service possible, the widest product selection, and the most knowledgeable patient consultants. This is an upgrade, but it does not change who we are at the core. The foundation of Oasis is constant, and our commitment to the community remains our top priority–and it always will."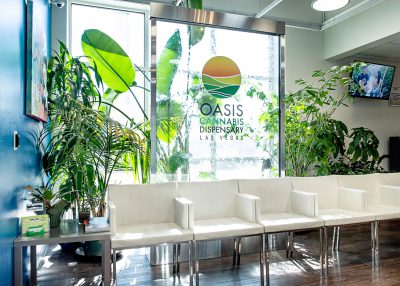 What Cannabis Buying Should Be
Gone are the days when cannabis consumers were forced to buy dime bags of schwag behind the local convenience store. But have you noticed that some dispensaries still seem to have that seedy atmosphere? Not at Oasis! This is a place where you can really feel comfortable while exploring new cannabis possibilities.
They've always had a warm and welcoming environment, but now they've added features that make their store seem like the Bloomingdale's of weed.
They've opened up their floor, which is no longer blocked off by the two large cases, and added an additional 12 feet of retail space.
They've replaced the green walls with calming whites and blues so customers don't feel rushed.
Wall-to-wall product cases are categorized for easy browsing.
Duplicate displays have been added for the more popular items to give customers more elbow room and increase the relaxed feel.
All products are prominently labeled in the LED-lit cases so you can easily see their selections.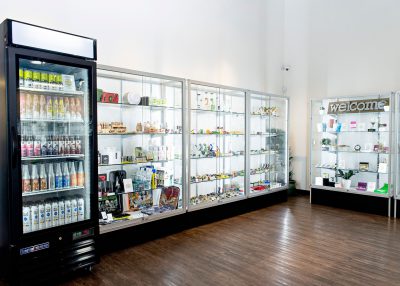 Best of all, two self-service bud bars let customers get up close and personal with each strain's specs, including terpenes, THC levels and cannabinoids, without a budtender waiting impatiently to put the product back. Feel free to sniff and examine every strain till you find exactly what you're looking for.
Individual Curation
One of their most striking qualities has been a part of the business model from day one. Oasis specializes in helping clients discover the perfect product for their needs. Now that recreational is part of this equation, they've redoubled their personal approach.
"We don't want people to come in and feel like they're just another customer. It's very important that they feel like part of the Oasis family, so they're given one-on-one consultation. This allows us to see what they're looking for and guide them toward the right products," says Janz.
Leading in Budtender Education
To provide the best customer experience, they fully educate their customer consultants to understand and be able to relate the effects of different cannabinoids, terpenes and the entourage effect. And whether you're a medical or recreational customer, you'll receive the same great individual service.
"Both medical and recreational customers are coming here to find relief," says Janz. "They're often looking for something to end their night after work, or for mood elevation and relaxation. These are things that cannabis provides whether it's used medically or recreationally. So for us, every person that comes in deserves to be educated and empowered to have the best experience possible. For us, that involves the personal approach."
The New-and-Improved Community Oasis is Returning Soon!
In addition to their other great features, Oasis's Community Oasis room serves as a community hub for artists, healing services, support groups and education-based programs.
The Community Oasis is currently under redesign as well, so it won't open till Summer. When it does, be prepared for the same incredible programs and a lot of new ones too! They provide most of their programs free of charge, and the rest are offered at a very low cost.
So, whether you're looking to find a new product, seeking to connect with your fellow cannabis community or just want to check out their new digs, there's never been a better time to stop by and check out Las Vegas's cannabis leader, Oasis Cannabis Dispensary.
5 Comments
We at Nugg (and NuggMD) believe it should be easy for the public and industry participants to have a clear, objective understanding of how cannabis markets are developing in their state. We're proud to share this detailed analysis of black market vs. legal cannabis production costs in California, which took hundreds of hours of research and dialogue to reveal that significant changes are necessary if legal cannabis is to thrive here.
---
The internet is riddled with articles about California's black market explosion since legalizing cannabis, and most agree that over-regulation and prohibitive start-up costs carry a big part of the blame.
It's a lot harder to find the actual math for this speculation though, so we explored the cost of producing black market cannabis vs. legal cannabis post Prop 64.
The numbers are even worse than you'd think.
Startup and production costs vary widely depending on the nature of the operation; but when equal costs are considered, if two growers opened the same 5,000 sq ft cultivation operation in the Central Valley, it could cost the compliant grower nearly FIVE TIMES as much to produce and distribute the same crop as a black market grower, or even more.
This calculation assumes the same startup, production, real estate costs and salary costs for the same size of grow. It was the administrative fees, licensing fees, state-required compliance issues and taxes that constituted the vast majority of legal production costs and sucked up a minimum of 90% of the crop's potential profit.
Worse, the final calculations assumed the site was already compliant with state environmental requirements and that no further mitigation was needed to begin production. They also assumed that the black market cultivator was not already in possession of equipment and real estate (because they don't need to find a compliant site). If these factors were added to the equation, the disparity would be even worse! The legal grower would likely lose money while the black market grower netted potential millions.  
The legislature is aware of this problem, and there are members who are trying to improve the situation for new cannabis businesses. For instance, AB286 has been introduced to reduce the cannabis excise tax from 15% to 11%. But there is little sympathy from a legislature and population who see only millions of dollars in sales and high prices on the shelves. It's difficult to imagine just how much these regulations can cost to comply with.
Our intention with this article is not to simply complain about the situation without offering a solution. Instead, we aim to demonstrate the problem in more detail in the hope that those in control of the legislation and regulations see the need for more action in addition to the small tax cuts or minor adjustments. We must make an enormous change if the industry is to survive and black market is to end.