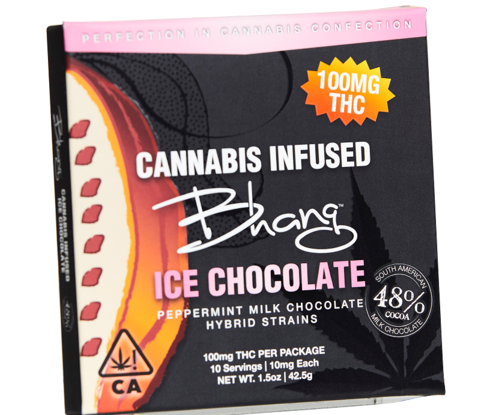 It may sound weird coming from a cannabis-lover, but sometimes I want an edible without the overpowering marijuana taste–I know, I know. Sue me. (If you're new to the cannabis world you might want the opposite as that distinct flavor might initially be off-putting.) 
So I generally stick to jelly candies like Kushy Punch's indica gummy, finding fruit better masks the tang than most infused chocolates.
Still, I haven't given up on them. Bhang, the world's most widely distributed edible company, produces a wide array of infused cocoa candies like this 100mg Ice Chocolate Bar.
Their CEO, Scott Van Rixel, is a master chocolatier with more than 25 years of experience making artisan chocolates–an instrumental factor that's made Bhang an eight-time Cannabis Cup "Best Edible" winner.
Does this peppermint milk chocolate bar have a heavy cannabis flavor, or will it restore my faith chocolate edibles? We'll examine this taste along with other key product factors here in this in-depth review.