The Personal Vaporizer
Bhang's premium personal vaporizer, the Bhang Stick, comes completely self-contained, including a cartridge and an inhaler that doesn't require pre-loading like many vape pens & cartridges on the market. It's powered by a 280mah battery and has an attached atomizer (upgraded to include a Nichrome coil) that delivers mouth-watering concentrates with an effortless drag, and visible vapor.
Its clear, see-through barrel allows you to easily track how much remaining oil you have at any given time, so you won't run out unexpectedly! Lasting approximately 100 hits, Bhang Stick is a must for those who need accessibility and reliability without a fuss.
Bhang Stick Battery Kit
The kit, which comes in a sleek carrying case sporting the Bhang logo, contains a USB charger and cartridge, perfect for use just about anywhere, at anytime.
Refill Vape Cartridges
The real jewel in the Bhang personal vaporizer line is the replacement cartridges, which are really products unto themselves. Created with standardized 510 treading, these cartridges fit almost any regular e-cigarette or vape pen; no additional adapter pin required! You don't need to purchase an entirely new system to take advantage of their products.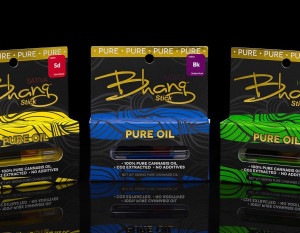 SEE ALSO: The Best and Worst Vape Cartridges of 2015
Because Flavor Matters!
Bhang offers a whopping 60 assorted sativa, indica, and hybrid strains to choose from. Alongside favored old-friends like Sour Diesel, Bubba, and OG Kush you'll find exciting new strains such as Alien OG and Super Lemon Haze. Choices like these mean you won't get bored with their 100% cannabis oil cartridges anytime soon!
Because Ingredients Matter!
Bhang utilizes C02 extraction methods to extract THC essential oils, and that means no chemical residues are left behind, as compared to butane, a popular extraction solvent, which can leave potentially deadly heavy metals in the finished consumer product. Bhang combines natural cannabis oil with coconut oil and nothing else. No glycols. No additives or glycerine. Just pure, unadulterated, liquid-THC.
Because Safety Matters!
To ensure consistent cannabis dosing, each product comes complete with potency details on the back. There are three levels of cartridges available allowing you to select the dose best suited to your situation or preference, reducing the potential for consuming products either too high or too low in THC for your needs.
Dosages
Low: If you're looking for something in the 25-35% THC range, then you'll want to pick up one of Bhang's Natural Oil cartridges.
Medium: For 50-65% THC choose Bhang's Pure Oil cartridge.
High: For maximum THC dosage, of at least 70%, be sure to check out Bhang's Black Private Reserve.
The vape cartridges themselves come in three different sizes to choose from:
Small (275 mg): Black Private Reserve oil is the only one available in this size.
Medium (550 mg): Both the Bhang Stick All Natural and Pure Oil are available in mid-size
Large (1,100 mg): Both the Bhang Stick All Natural and Pure Oil are available in the large cartridges.
And all cartridges come with a sleek, flat-tip mouthpiece, reminding me a little of the cigarette holders from Hollywood's hey-day, adding an extra element of comfort and class.
How to Use the Bhang Stick
Set your vaporizer wattage to low. A 7-wattage is typically the preferred heat, though many recommend a 3.5-wattage to start with (lower wattage prevents burn out). You don't want to accidentally use up all your oil before you get to try it!
Remove the cartridge from the plastic tube (you may want to hang onto that tube as it's a perfectly-sized joint protector, and it's good to recycle!) Attach the cartridge to your vaporizer and you're ready to go. No primer puff required.
Because of its smoothness and dose reliability, it's ideal for those with lower THC tolerances or first-time users.
So whether you're at home or on the road, Bhang Stick lets you take your medication with you, helping you get out there. And isn't that what it's all about?
User Testimonials
"I tried the sativa-heavy Lamb's Bread and the indica-heavy Ogre. Lamb's Bread is full-bodied, light smoke with a super bright taste. Totally uplifting. A totally enjoyable cerebral high. Ogre was much heavier, a totally deeper, more relaxing high." —Jazzmin M.
"Simply, it's one of the best on the market today, so much better than the other ones I've tried. They aren't even worth mentioning." —Doug R.
"I'd rate Bhang the top of any C02 oil I've tried, and I've tried a lot. It gives the cleanest taste, best flavors and it's just about the easiest way to dose that I've found. I can use it anywhere. No one cares. No one notices. Bhang Stick is absolutely out of this world. It's discreet, you know. People don't know what I'm doing and that's why I won't use anything else. I mean, I freaking love these things. Wherever they're getting the buds from, they're growing them right!" —Nancy L. 
Where to Buy Bhang Stick and Cartridges
We love sharing awesome content on our blog to help cannabis patients better understand the plant they love, but we're also pioneering the way for easy, quick, and professional cannabis delivery.
Nugg lets you find and order delivery online from local cannabis dispensaries in more than 60 California cities, including San Francisco, Los Angeles, and San Diego. Think of it like GrubHub for cannabis. It's free to use, every order is backed by 24/7 Customer Service, and you can choose from thousands of marijuana products across hundreds of dispensary menus.

3 Comments
Founded by Joe Gerlach in 2011, Korova Edibles touts its "unrivaled potency" on every item, just above an ingredient list that reads like something your grandmother would have crafted with loving hands. Flour, brown sugar, chocolate chips, eggs, chocolate pudding…and of course cannabutter. You'll find no unpronounceable items or questionable ingredients here. It looks and smells just like grandma used to make, well almost.
Gerlach, who grew up in a family that loved to bake, created the company when he realized how many cancer patients, and others living with similarly severe conditions, didn't have access to products with a strong enough potency to accommodate their needs. For many, the strongest dose available was an ineffective 10mg, the current edible content limit in places like Colorado, aimed at reducing accidental pediatric ingestion.
Gerlach joined forces with Ashley Goldsberry to create Korova, a company that built upon the core philosophy of helping people. In conversation with Debby Goldsberry for Dope Magazine, Ashley said that every single employee at Korova focuses on the person "who the product is helping."
And Korova is helping people.
The Korova Dose Amount
Korova edibles are some of the strongest on the market, ranging in THC count from 150mg to a whopping 1,000mg of THC, and that can mean the difference between getting the medication a patient needs, or not at all. Rachel M. said her mother, who is currently undergoing chemotherapy sometimes can't stomach the large amount she'd have to eat of other products, but can "peck" at one of Korova's Black Bars, consuming "just little bits, every now and then, and she gets enough. Otherwise, she wouldn't get enough to help her."  
All items are created around a standardized 50mg "dose" of THC to make it easier for the consumer to calculate their desired amount correctly. For example, Korova's chocolate chip cookie contains 150mg of THC, or 3 doses.
Marta M. of Oxnard thinks that's their "greatest" benefit. "I get 20 doses from the Black Bar. At $40, that's two bucks a dose. I'm on benefits. I can't afford some of the higher priced stuff. And the bar lasts me two months." For patients struggling to make ends meet, the cost per gram ratio of Korova's Black Bar is the "best bang for your buck." She added, "I get money left over for food, and because of the bar I can actually eat it."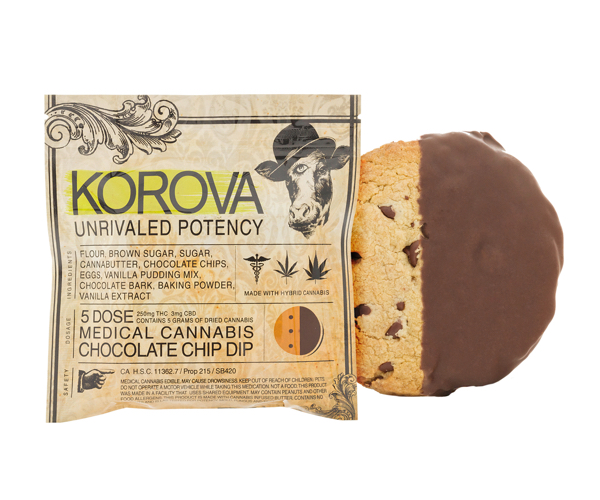 Korova Edibles Flavors and Ingredients:
Not sure which Korova product to start with? Check out these options:
1. Products in the 150mg range include the Chocolate Chip Cookie that earned SF High Times' 2nd place for 'Best Edible' in 2013, and a 'decadent' Triple Chocolate Brownie.
2. Dipped cookies – hand crafted and half-dipped – come in flavors such as the Chocolate Chip Dip, Peanut Butter Dip, and Mint Dip and deliver 250mg of THC.
3. Vegan? Gluten Intolerant? Korova has you covered with their 6-dose Organic Peanut Butter Bar (300mg THC) made from organic peanut butter, gluten-free oats, vegan chocolate coating, cannabis infused coconut oil and agave syrup.
If you're a vegan cannabis consumer, you must read: Six Vegan Marijuana Edibles You Should Try
4. The Fifty One Fifty Bar, which is really one of their award-winning chocolate chip cookies that has been baked directly on top of one of their triple chocolate brownies, comes with a hefty 500mg dose.
5. And their (in)famous Black Bar, the most potent edible on the market – ideal for those with extreme pain and/ or high THC tolerance – tops the chart at a powerful 1,000 mg.  
6. Not into baked goods? Don't despair; you can get nearly 300mg THC from their White Cheddar Popcorn.
While all of the Korova edibles carry an identifiable cannabis flavor, it doesn't overpower the home-made taste and texture of the baked goods. And their moist, triple chocolate brownie pairs exceptionally well with a big glass of ice-cold milk!
For optimal freshness refrigeration is recommended as it can increase the shelf-life for up to three months. And as always, it is recommended that you start with a small amount until you are familiar with the effects, particularly when dealing with higher dose edibles. (10mg is a typically recommended 'starter' dose for those who have not tried edibles previously).
The Korova Edibles Difference
In a one-on-one interview with a sales manager from the company, we were lucky enough to learn more about what goes on behind the scenes at Korova. Most notably, they take lab-testing their products very seriously. So seriously that they've been recognized by CW Analytical's "quality-tested program."
But what exactly does that mean?
We were surprised to find out that by being part of CW's program, Korova actually undergoes kitchen walk-throughs and random batch testing for microbiological contaminants, performed by professional laboratory teams. Quite impressive if you ask us.
Also, the company takes pride in supplying cannabis consumers with specific nutritional information for each item they ingest, which can be found cleanly-labeled on every package.
Finally, the company knew it couldn't just be recognized for having high-potency products, since "unrivaled potency" is usually associated with unrivaled cannabis taste (and not in the good way). That's why their certified kitchen is managed by a professional pastry chef!
Korova Testimonials:
Corry — "I didn't get very foggy. I didn't lose much of my attention span or get any other side effects. I just had pain relief, relaxation, and no anxiety for a very long time. I think it lasted around 8 hours before I felt sober again."
Josh — "The high was a good mix of physical relaxation and a comfortable pain free feeling for hours."
Randall M — "KOROVA Edibles Peanut butter dipped, Peanut butter cookie is the best edible that I have ever eaten, to date."
Where to Buy Korova Edibles
While we love sharing awesome content on our blog to help cannabis patients better understand the plant they love, we're also pioneering the way for easy, quick, and professional cannabis delivery.
Nugg lets you find and order delivery online from local cannabis dispensaries in more than 60 California cities, including San Francisco, Los Angeles, and San Diego. Think of it like GrubHub for cannabis. It's free to use, every order is backed by 24/7 Customer Service, and you can choose from thousands of marijuana products across hundreds of dispensary menus.
Just click the button below to begin your search!
14 Comments
Many patients who use medical marijuana on a regular or semi-regular basis are familiar with the more traditional ways of ingesting it—smoking, vaping, and eating. But did you know that marijuana-infused tea is considered a gentler, healthier alternative to smoking?
Marijuana-infused teas are becoming an increasingly popular choice for those looking for a convenient alternative to traditional consumption methods and wanting to avoid the associated risks of smoking, which can be especially helpful if you're battling respiratory diseases or afflictions of the mouth or throat.
But these drinkables are by no means new innovations. Throughout history, several prominent cultures have harnessed cannabis' healing power through teas. In many Jamaican and East Indian households a common home remedy for morning sickness and pregnancy-related stress is is often a cup of cannabis-infused tea. Intrigued? Keep reading!