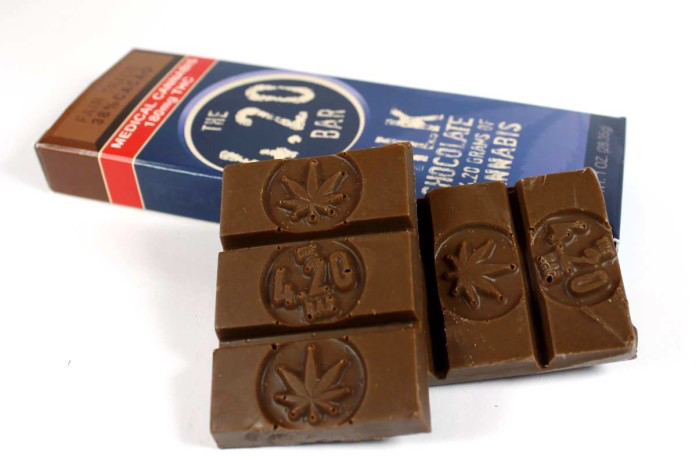 This post will take you through an extended journey of the entire 4.20 Bar product line. You'll get to know each flavor individually and gain a better understanding of the Venice Cookie Co., the company who produces this delectable edible.
Some attributes are shared across all flavors.  The first is consistency.  Each 1 ounce bar has six segmented doses, making compounded dosing easier, and contains 4.2 grams of dried cannabis.
The segments (six per bar) are on the small side and leave room for multiple pieces per sitting, making the 4.20 Bar effective for both beginner and seasoned patients. It's recommended that beginners just start with one dose, and make there way up to another segment after waiting 30 minutes – 1 hour.
Milk Chocolate: We start our review with their base chocolate bar, the 38% cacao milk chocolate.  It sets the tone for all other flavors in their product line — it features a smooth texture, tasty milk-chocolate and almost completely masks the taste and smell of cannabis contained within.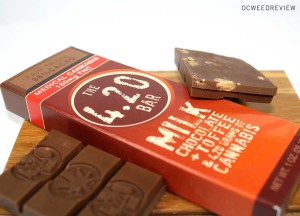 Milk Chocolate and Toffee: This variant uses the same milk chocolate as the bar above, but adds chunks of sweet toffee.  The bar springs to life with its addition of caramelized sugar, and combines perfectly with milk chocolate to make for a delightful, tasty, and crunchy treat.
Milk Chocolate Hemp Crunch:  the chocolate/toffee combo listed above was only an introduction to the crunchy-blast that the "Hemp Crunch" flavor provides. It's loaded with hemp hearts and crisped rice to give it an even more noticeable crunch.  It tastes very much like a Nestle Crunch or a Krackle bar.  And I freaking love Krackle bars.
However, the 4.20 Bar version brings with it omegas 3,6, and 9 — the fatty acids widely celebrated for preventing stroke, diabetes, and heart disease and for promoting cell growth and a healthy immune system. For me, this makes the Hemp Crunch bar significantly more attractive than the Krackle bars I had to sell during my Little League days.
CBD Dark Chocolate: Those interested in the whole body benefit offered by Omega fatty acids might also enjoy a pinch of CBD as an antioxidant.  The CBD Dark Chocolate bar is the only one not packing 180mg of THC. Instead, it splits its cannabinoids in a 2 to 1 ratio of CBD to THC.  I typically go with the CBD-bar after a trip to the gym, as the anti-inflammatory properties help soothe my arthritic joints, while its antipsychotic, anti-anxiety, and anti-depressive properties keep me on an even keel.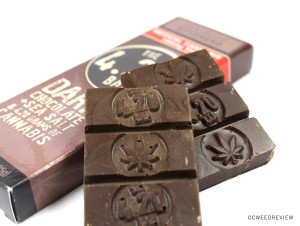 Dark Chocolate and Sea Salt: The second bar in the dark chocolate series features 61% cacao, but adds a hint of sea salt for extra zest. And note: the salt is salty, while the dark chocolate is slightly bitter and velvety on the tongue.  For those who crave the currently popular dark chocolate bar, but seek extra flavor, the sea-salt pairing in this bar will satisfy you and then some.
Blackberry Dark Chocolate and Popping Candy: A delightfully different addition to the 4.20 bar line, the "popping candy" (I imagine it's very similar to Pop-Rocks) contained within this edible light your mouth up with a crackling, tingly sensation. In my opinion it only enhances the flavors of dark chocolate and berries. I also think the popping sensations encourages a faster sublingual uptake (which allows THC to enter your system faster, creating more immediate and exaggerated effects).
With the exception of the CBD bar, each 4.20 Bar has 180 mg of THC per bar and 30 mg of THC per segment across the product line.  I take one or two pieces at a time to fit my tolerance-level, and often let the chocolate melt in my mouth to speed up the effects of ingesting cannabis.  Typically within 45-55 minutes, I feel its full effects –a creative, distracting and uplifting high.
Despite struggling through three consecutive high-stress weeks, my experience with the line of 4.20 Bars has helped ease my mental anxiety, but has also reduced a lot of the tension in my shoulders.
But the versatility of this edible doesn't stop there.  I also took one dose before a trip to the gym, and was pleasantly surprised by how well it soothed muscle aches and allowed me to have a prolonged workout.
With its combined mental and physical effects, the 4.20 Bar by the Venice Cookie Co. is an effective solution for many symptoms.
---
About Nugg Team
Nugg is the "GrubHub for marijuana." Our site lets medical marijuana patients order online from dispensaries that deliver to them. Signup with the code BLOG20 for a $20 credit on your first order!
---