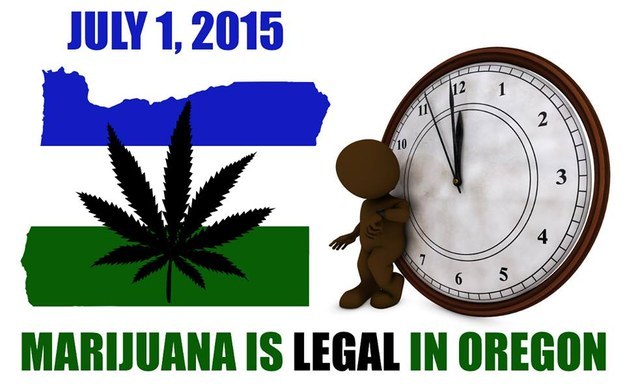 On Wednesday July 1st, history was made. Oregon became the fourth state to legalize recreational pot with Measure 91. Oregon joins Alaska, Colorado, Washington and the capital, Washington D.C. as trailblazers in the recreational marijuana legalization movement. Oregonians will not be able to purchase marijuana from a retail location until sometime later this year, but that hasn't stopped people from celebrating the win.
What you need to know for you next trip to Oregon:
1. It is not yet legal for anyone but medical cannabis patients to purchase marijuana
2. Adults 21+ can have up to 8 ounces of cannabis in private, and 1 ounce in public
3. Adults 21+ can grow up to 4 plants on their own property
4. No marijuana possession or delivery penalties for adults
5. No felony for minors
6. No buying, selling, or transporting recreational marijuana across state lines
7. Rumors are swirling that a bill is likely to pass on October 1st that will let many of the 250+ marijuana dispensaries sell to all adults in Oregon
8. Taxation won't start until 2016 (tax-free for the last 3 months of 2015, boo-ya)
9. As of right now, you can give away marijuana and receive it as a gift
Oregon is setting a fast pace with a projected quick three month process of legality to sale (Washington took 18 months). Simultaneously, advocates are making moves for the legalization of recreational marijuana in Arizona, California, Maine, Massachusetts, and Nevada to name a few.
Which states do you think will see progress in 2016?
---
About Nugg Team
Nugg is the "GrubHub for marijuana." Our site lets medical marijuana patients order online from dispensaries that deliver to them. Signup with the code BLOG20 for a $20 credit on your first order!
---