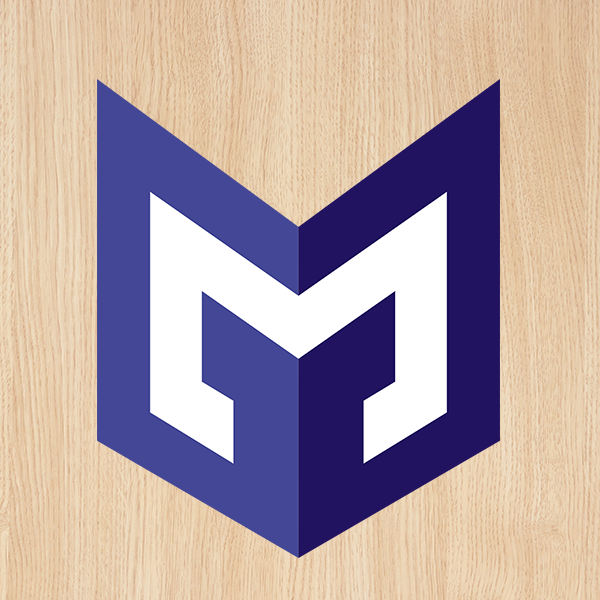 We sat down with Sheryl of Medithrive in San Francisco to take an in-depth look into their medical marijuana delivery service. What follows is a one-on-one interview that offers a behind-the-scenes look at what this cannabis collective has to offer patients in California.
The Nugg team is dedicated to finding and making public the most relevant, accurate, and up-to-date information on cannabis dispensaries throughout California (and ultimately beyond). Let's dive in.
When and why did you start the Medithrive cannabis delivery service?
Medithrive first came on the scene in 2009, but has recently re-opened in 2016. We started off as a delivery service (back in '09), and that's been operating ever since, but we're proud to say our physical storefront dispensary is now open.
Our mission is three-fold:
* To honor medical cannabis patients by providing a safe, legal and affordable means of obtaining medical cannabis.
* To ensure that every patient in our Cooperative feels cared for, valued and respected.
* To improve and protect the health, safety, tranquility and cleanliness of our community.
We (as a collective) practice compassion, tolerance and understanding towards all people. We also believe in clear and consistent communication between doctors, patients and cannabis providers to meet the diverse needs of our clients. Our expert staff is available to answer your questions, offer recommendations and help you find the most customized solution to address your health concerns.
What makes Medithrive stand out from other cannabis collectives?
Medithrive is a cutting-edge, patient-oriented medical marijuana dispensary and delivery service with the highest quality flowers, edibles, and concentrates in the Bay Area. 
Our physical storefront is unique in that we have an open floor plan, similar to an Apple store. We feature high-powered microscopes that project on to Ultra 4K TV's so that you can see your buds in deep detail. We have unique displays for our flowers, a sexy glass counter for our edibles, and the best menu in town.
Not only that, but our staff has access to iStrainguide's Fragrance System, which lets you become your own budtender and choose the strains that are specific to your needs.
I'd say we're pretty exclusive!
What are some of your staff's and patients' favorite products?
Gorilla Glue #4 is a staff and patient favorite, and was developed by GG Strains.
It's a potent hybrid strain that packs a punch, leaving users with dramatic feelings of relaxation and euphoria, often resulting in permanent "couch-lock." This chunky, conic, crystal-covered strain sports pungent earthy and sour smells, inherited by its parent strains, Chem's Sister, Sour Dubb, and Chocolate Diesel. It won 1st place in both the Los Angeles and Michigan 2014 Cannabis Cups, and has since become one of the most popular hybrid strains available.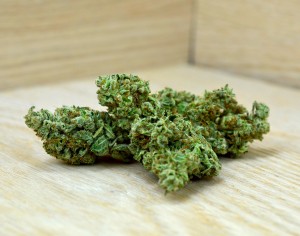 Other favorite strains include Star Trek Super Kush, StrawberryBanana, and Stardawg.
2. Our Omedibles tinctures and edibles have been an instant-hit.
Om Edibles is an all-female run collective dedicated to providing the highest quality of Medical Cannabis products to legal patients in California, so naturally we love them.
Their edibles are made with organic full-sun cannabis flowers and concentrates, and all of their CBD medicine is made from organic medical cannabis and is not hemp derived.
For their tinctures, use vegetable glycerin, raw organic Cannabis flowers, activated organic Cannabis flowers, zero PPM solvent-free Cannabis extract, and other healing herbs (they're designed specifically to be very light). Our patients recommend enjoying these tinctures with a beverage (hot, cold, or sparkling).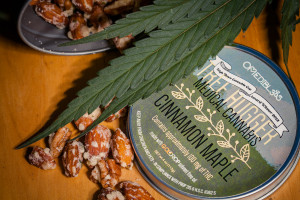 HINT: If you're an organic/vegan cannabis consumer, read Six Vegan Marijuana Edibles You Should Try
3. Gold Drop Vape Cartridge
With vape pens and cartridges becoming all the rage these days, the Gold Drop Cartridge has become one of our best-sellers, and for good reason. When vaporized, these cartridges produce almost no scent at all, making them perfect for out-in-public consumption and on-the-go patients. The taste is fantastic, fruity and slightly tropical, and each cartridge produces up to 150 massive hits (according to one of our patients), which means this cartridge gets you bang for your buck!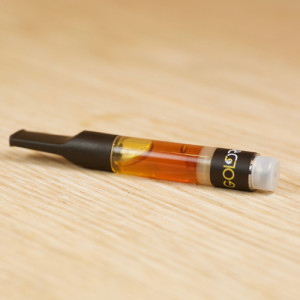 HINT: Check out the Best and Worst Vape Cartridges Available Today
Do you offer any deals for patients?
Absolutely, we have three rotating specials that get updated weekly.
We offer first time patient discount of 20% off and a complimentary goodie bag. The goodie bag includes a pre-roll, hemp-wick sample, stickers and a coupon for a free gram on second visit over $50.
We also offer a refer a friend program, in which patients can earn a free eighth for every person they refer.
Finally, we offer Veteran and Senior discounts of 5% each.
Hint: Patient's can also become a brand ambassador for Nugg & earn $10 cash for each person they refer that signs up and places an order. 
Where does Medithrive deliver to, and what's your average delivery time?
We deliver everywhere in San Francisco in 60 minutes or less, and our storefront dispensary is located at 1933 Mission St, San Francisco, CA.
What are Medithrive's hours of operations?
Delivery: 12pm – 8pm seven days a week
Storefront: Monday-Saturday 10am-9pm,  Sunday 11am-8pm
How can new patients become a member of your collective and order delivery?
Well, there's a couple options. Patients can visit our website, but it's currently under construction so for now that option isn't available. If patients are walking into our storefront, all they need is their valid CA drivers license or ID card, and their doctor's recommendation for medical cannabis. Once we have that information, you just read through and agree to our collective membership agreement, and we can grant you access to the store!
If patients are approaching us online, I'd recommend just signing up with Nugg. It's quick and easy, and your documentation becomes available to us once you place your first order.
If any patient does not have a doctor's recommendation for medical cannabis, or needs to get theirs renewed, by-far the most convenient option is to video-chat with a doctor through NuggMD. You just visit their website, click a button to begin your evaluation, and you're face-to-face with a licensed CA doctor in minutes. Once you're approved (which usually only takes 5-10 minutes), you receive an instant electronic version of your doctor's recommendation, which can be used to order instantly from our menu on Nugg! Plus, you'll get a physical copy of your recommendation in the mail 2-3 days later which you can use to get access to our storefront dispensary.
Do you have any personal stories or reviews from patients you can share with us?
If I were to share a general consensus from our patients on our collective and service, I'd say our friendly and knowledgable staff make the biggest difference, and our massive menu and selection of weekly deals keep patients coming back.
But we really do love checking out the reviews we get online (and responding to them, of course!). I recently got one from a patient named Rachel that read —
"Seriously. Best. Buds. EVER. Im always blown away by their top shelf selection. I mean, drooling-over-it-dont-want-to-even-smoke-it kinda dank. Ive given other deliveries a shot and while their staff is nice too, the consistency and quality of their product isnt anywhere near the same level. The staff is genuinely AWESOME and if Im in a rush they promptly take my order and when I have questions they really take their time, not to mention the drivers are the chillest! Killer deals, hella freebies, one very satisfied patient."
And a funny comment we get from patients all the time who walk into our storefront is "Hey, what's this funny moss all over the walls? Can I touch it? Is it real?" It's rather funny, and a great way to kick-off a conversation with curious patients.
Can we find you at upcoming events…and any final thoughts?
We will be sponsoring a both a HempCon in April at the Cow Palace in Daly City, and our patients can follow us on Facebook & Twitter & Instagram for future announcements!
Does Medithrive offer online ordering?
Yes, one can order online through Nugg or at our own website at Medithrive.com

Conclusion
There you have it, a 1-on-1 with the Medithrive Medical Marijuana Dispensary & Delivery Service in San Francisco .
Here at Nugg, it's our mission to give California cannabis patients (more states to come) fast, easy, and reliable access to cannabis delivery. Our site lets you order online from the largest selection of cannabis products and dispensaries in your area. Think of it like GrubHub for cannabis. It's free to use, every order is backed by 24/7 Customer Service, and you can choose from thousands of marijuana products across hundreds of dispensary menus.
---
About Nugg Team
Nugg is the "GrubHub for marijuana." Our site lets medical marijuana patients order online from dispensaries that deliver to them. Signup with the code BLOG20 for a $20 credit on your first order!
---