Cannabis & Yoga: a Collective of the Mind, Body & Soul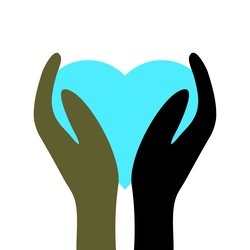 From the moment I connected with Christian, owner of the Natural Wellness Foundation (whose cannabis menu can be found on Nugg's website here), I knew there was much more to his business than being a reputable delivery service with quality cannabis products. I sensed a revolutionary mission statement behind his business plan and was eager to learn more.
THE NATURAL WELLNESS FOUNDATION IS A COMMUNITY CENTERED AROUND CANNABIS RESEARCH, EDUCATION, EFFECTIVE HEALING PRACTICES (THAT ARE SCIENTIFICALLY SUPPORTED), AND A DESIRE TO CREATE A SUPPORTIVE COMMUNITY FOR ITS PATIENTS TO HEAL WITH AND SOCIALIZE WITHIN.
Christian: "Aside from having a selection of exceptional medicinal grade cannabis, I believe that we set the standard for a personalized and effective cannabis profile for our patients.
The Focus Groups we hold really help us define gaps in the cannabis community. Through our patients' participation in our discussions, we've gathered meaningful data and feedback. Having come from a healthcare background professionally, I felt a certain responsibility to do what we can to help close those gaps and fill a need within the community.
Yoga events, 420 socials, educational forums. They were all requested by our patients. So we obliged."
We spent the afternoon discussing cannabis in our communities and brainstorming ways to revolutionize those relationships. I eagerly joined the council and planned to attend their next event, the Ganja Yoga event. As a yogi and medical marijuana patient, I was pretty stoked to see what this was all about.
Yoga & Cannabis: A Sensational Healing Experience 
I've always been one to combine my healing practices because I find them to be synergetic in effect. Medicating with cannabis before yoga allows me to push myself further and dive deeper into my practice. I find myself opening up more, which helps my mind, body, and soul grow in highly beneficial ways.
COMBINING YOGA, SOUND HEALING AND MEDICAL CANNABIS, WITH EDUCATION AND COMMUNITY, THE NATURAL WELLNESS FOUNDATION CREATED AN EVENT CENTERED AROUND COLLECTIVE HEALING. THE ENTIRE CLASS WAS CHOREOGRAPHED TO CREATE A PROFOUND HEALING EXPERIENCE. EVERY POSE, STRAIN, SOUND, AND WORD HAD A PURPOSE.
The event was held at a private location with an intimate group of patients. It was a sunny Saturday morning and the garden patio where we were lounging prior to class was warm and inviting. Fresh coffee, water, and extra mats were all provided and awaited our use by a lush garden.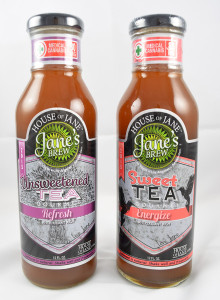 Once all 5 students arrived for class, Christian offered us cups of Jane's Brew cannabis infused chamomile tea.
Jasmine: "Why did you choose this brew to start the event?"
Christian: "I've found the Jane's Brew line of products to be a fantastic way to medicate first thing in the morning. It's a very potent but relaxing high. Ideal for loosening up."
And he was absolutely correct. The tea set the perfect tone to start the experience. It was very comforting. I felt light and more relaxed – and with the way my body carries stress, I really needed that. 
We then made our way into the studio space where our mats were lined up with complementary bottles of smart water. At the front of the room was a collection of instruments – a guitar, drums, a dijurido, chimes and Tibetan song bowls – all to be performed impromptu by an incredible musician named Jim Maloney. He's from Mana Vibrations and was going to be taking us through an amazing sound healing experience during our extended yoga class.
Ashley DeMarco, a talented yoga teacher from SoCal Yoga Retreats, worked with Christian to put together a flow that would compliment the strains we were given during our practice. With that model in mind, she felt out where our class was energetically and free flowed a sequence based off what felt right for us in the moment. It was awesome!
She led us through a very gentle opening sequence. We spent a lot of time slowly opening up the body, taking our time to really ease into each pose.
We broke for water often and had two medication sessions within our sequence.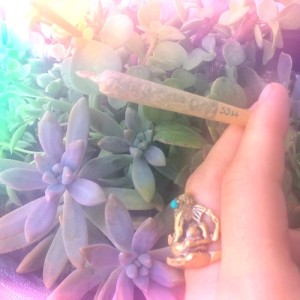 The first strain we smoked was "True Blue."
Christian: "This decision was made a month prior to the event. So I had to make sure the store was fully stocked and that our supply was well cared for. This particular strain is like smoking pure inspiration. You can't help but become hyper receptive to your surroundings, your body, and your thoughts if you smoke this alone. Also, music sounds incredible while enjoying it. However, if you smoke this with others, all the receptiveness is heightened. It becomes empathy towards those around you."
At this point in the class we were still opening up the body, so the True Blue did a great job of heightening sensations and expanding awareness.
Yoga alone is a practice that allows you to go deep into your own healing. It's an individual practice that takes on a different form when practiced as a group. It's all added energy that joins the playing field. The result is an empowering reminder that we're all essentially in this together.
Christian: "As you felt during the session, everyone was perfectly in tuned with each other. This was the intended effect."
As the sequence carries on and we go deeper into our practice, I'm either focused on settling into – or not falling out of – a pose, or off getting lost in the vibration of live music melodies coursing through my veins. The aromatherapy and essential oils also added such an entrancing touch to the experience that I completely lost track of time.
When it came time for our peak pose, we were passed joints of Super Silver Haze.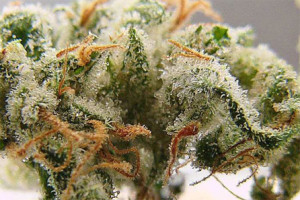 Christian: "Super Silver Haze is a sativa dominant hybrid. It's great for circulation and bumping up your energy level. We decided to smoke this strain just before our peak pose (humble warrior) for that little extra help in getting through the workout."
After powering through those poses, it was time to cool down the body. We took our time getting to the ground, really sipping every last ounce of love from our practice.
Before we laid down for shavasana, we spontaneously opened up to a brief discussion. This was one lady's first experience with yoga – ever! She was loving it all so much that she had to share her newfound admiration with the group. Then it became really clear that we were all pretty stoked – for her, that moment, life, everything. 
IT WAS AWESOME TO SEE THE WHOLE GROUP TRULY ENJOY THEMSELVES AND BE TOTALLY OPEN TO THIS WHOLE EXPERIENCE. WE ALL FELT AMAZING AND WERE SO GRATEFUL TO BE TAKEN ON WHAT SEEMED TO BE LIKE THE MOST REJUVENATING MINI VACATION EVER.
But no yoga session is complete without shavasana and meditation! Christian then gave us CBD infused watermelon juice to prep us for our final pose.
Christian: "I wanted to quite the mind towards the end of the workout so I decided to put the THC aside and stick with CBDs. The tincture we use is handcrafted locally by KBPureEssentials.com. They use a high CBD strain of cannabis called AC/DC. I've found it works very well for bringing one back to homeostasis. It's a great balancer."
The watermelon juice was DELICIOUS. And according to Ashley it has 4 times the electrolytes as coconut water! YEW!
After settling down and dimming the lights, Ashley took us through a short guided meditation. Her voice then faded into the Tibetan sound bowl vibrating brilliant frequencies around the room.
I felt healing energy in every form, soaking into my being. The CDBs had definitely taken effect because I could feel my body chilling out on a cellular level.
We stayed in shavasana long enough to really absorb all the sweet nectar oozing from our practice before coming together in añjali mudra to seal class together.
AT THIS POINT I WAS ON CLOUD NINE. MY BODY FELT AMAZING. MY MIND WAS NOT TRYING TO BE MY ENEMY. AND I GENUINELY FELT REALLY GOOD ABOUT EVERYTHING HAPPENING AROUND ME. I WAS LIVING IN THE MOMENT. I WAS CONNECTED TO MYSELF, EVERYONE AND EVERYTHING AROUND ME. AND I WAS HAPPY.
The only thing that made this experience better was wondering back out to the patio to find a nutritious breakfast provided alongside a bunch of complementary joints and gift bags. 
This led way to open up the floor to an excellent discussion around educated cannabis use.
There were are about 10 of us total including the educators, ages from 26 to mid 60s, I believe. I was the youngest. The group shared personal experiences and everyone had something profound and inspiring to say.
Jasmine: "Why did you structure the course the way you did?"
Christian: "The Natural Wellness Foundation believes in healing a person with a 3 pronged approach.
1. Stimulating the mind through education
2. Healing the body through quality meds and healthy practices
3. Fulfilling the spirit through community
It was important to me that the event have an educational module that required active group participation. That's why Dr. Nick was invited to lead a discussion on cannabis as an aphrodisiac."
Dr. Nick Karras shared some insightful findings on how cannabis is an aphrodisiac that allows couples to truly open up, break down walls, and connect to their lovers in ways previously unreachable. His findings support cannabis as a wondrous addition to living a sexually healthy lifestyle – and just healthier lifestyles all around!
Then story after story poured out from the group about how cannabis has been a beautiful part of their lives too. I listened to how it helped heal injuries, ease pain, and kill cancer. I learned how it fought emotional distresses and helped bring a family back together.
I FELT AN OVERWHELMING SENSE OF GRATITUDE FOR OUR DISCUSSION. IT WAS EMPATHETIC, ENLIGHTENING AND EMPOWERING.
The positivity, love, and inspiration floating around that space that really struck me.
The Natural Wellness Foundation is really setting the standard in the Cannabis community. They're taking quality meds, professional and compassionate care, and education, and combining that with a mission to "normalize weed." They're creating a movement in support of conscious cannabis consumption.
Cristian: "I want to grow in to a fully self-sustaining community surrounding cannabis. A grouping of like-minded individuals who understand the value that cannabis can add to our lives on an personal level, community level, and as a nation."
People want to heal themselves and they should feel free to do so – openly, responsibly and in accordance with your own personal journey.
Cannabis has played a key role in my self healing and continues to do so. It helps me balance my mind, restore my body, and enliven my spirit. And when paired with yoga and sound healing, the effects are synergetic. They're magical.
The Yoga Ganja event was much more than your average yoga class. It was a revitalizing experience iwth soothing sensory stimulation and collective healing. It was a journey to harmony and I highly recommend it to every cannabis consumer looking to take their healing high to the next level.
I could only find a few cannabis-focused yoga events (I've listed them below) in other cities, but I'm sure asking around at your local dispensaries will lead you to one.
California Yoga & Cannabis Activities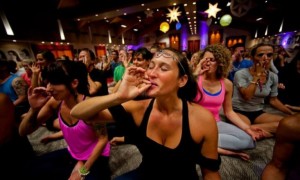 A San Francisco meetup group — led by Dee, a certified hatha yoga teacher with twenty years of practice — dives into Ganja Yoga, a "high-quality instruction, based on mindfulness and good alignment for injury-prevention, designed for any body." Dee is also a sexuality coach and tantra teacher, and works with individuals, couples, and groups of friends in private sessions.
You can read about Neal Pollack's (author at the Cannabist) three-day experience with Ganja Yoga in San Francisco. 
420 Yoga, LA:
Previously located in Atwater village, but relocating to Oakland, CA this fall, is another yoga destination with cannabis-infused sessions, but . Read about it in a review from Vice.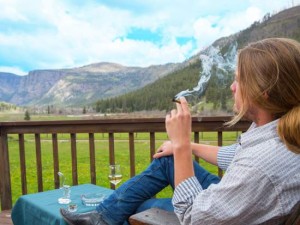 And last but not least, there's Canna Camp, a new rare experience held in a secluded Colorado mountain resort that offers guests the opportunity to learn about and experience the outdoors and cannabis in a safe, comfortable, and social environment. Cannabis activities include things like cooking, educational classes, yoga, painting, massage-therapy, and glass-blowing (demonstrations).
So, what are your experiences with cannabis and yoga? Have you done anything like this before? Share your stories in the comments below!
Happy days,
J
Leave a Comment
Visionary artist Alex Grey is renowned for his enlightening perspectives on life. He's a prominent activist in psychedelic awareness and an inspiring leader of creative consciousness.
Artist communities and cultural ambassadors everywhere honor Grey as one of the most important figures in our green generation. Integrating sacred sciences and modern mindfulness, his work paints pathways of interconnected ganja love through images, painting, poetry and words of wisdom.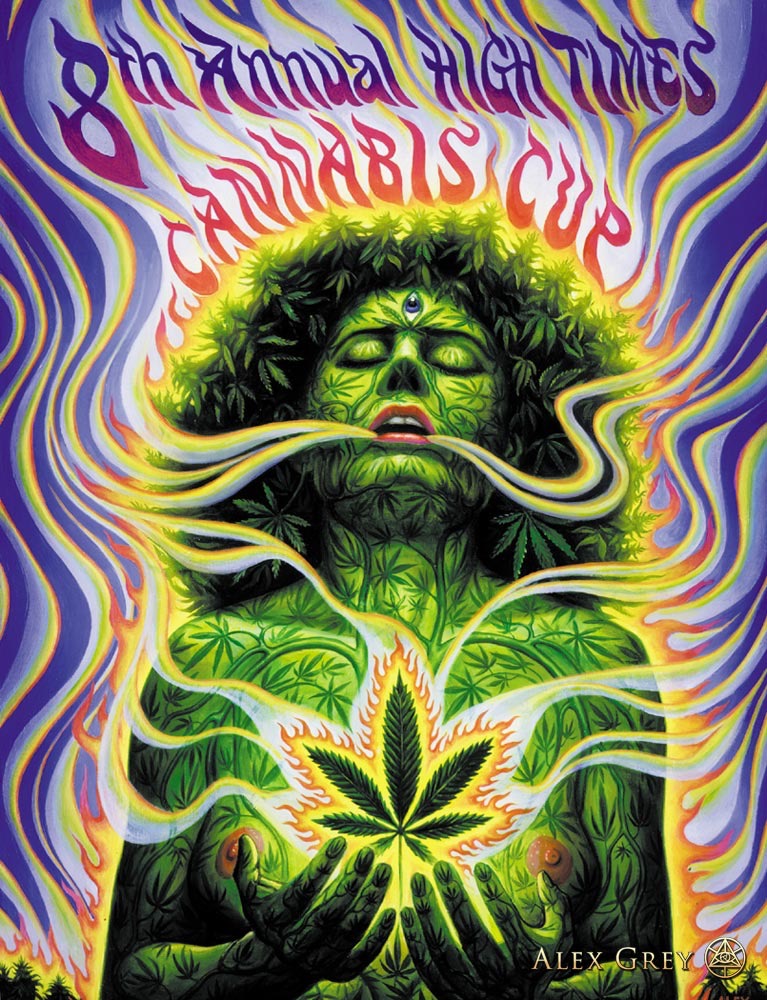 "In my painting for the High Times 1995 Cannabis Cup I've shown the cannabis Goddess, Cannabia, surrounded by an aura of flames emitting smoke. Her hair is lush female sinsemilla buds, and her body is covered with the plant stalks, stems and green leaves. Her two mundane eyes are closed, the third "divine" eye on her forehead is open, revealing a world of fantastic and spiritual vision. To kiss her is to become intoxicated with her and turned on to one's own fertile imagination. She holds a flaming marijuana leaf as the heart offering of the earth mother, a gift of sensuous pleasure and mystical insight."
Cannabis is an ancient plant used for ritual, medicinal and recreational ceremonies and Grey's work is heavily influenced by its sacred use as medicine.
In the interview below, Alex Grey discusses why he thinks cannabis is the most important psychedelic. Touching upon it's nonexistent toxic dose, highly functional multiple uses, and how our founding fathers used the herb as inspiration for our founding documents, he and his wife Alison Grey praise cannabis for being an aphrodisiac, visionary and a revolutionary tool to consciously wake up to connect to what matter's most in life: love.
Watch Alex Grey Psychedelic Spirituality and History Of Cannabis
Check out some of Alex's other art pieces below, and visit Jasmine's (author) awesome blog, the High Vibe Tribe.