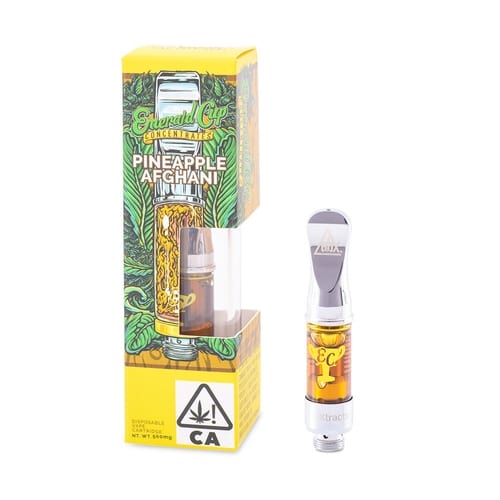 Whenever I go to a concert or other packed event, I get anxious. It's not even that I worry about anything in particular, I've just had social anxiety for most of my life. The thought of being crammed tight against other people sends my mind spinning and holds me back from a lot of events that I'd otherwise really enjoy with my friends.
So when my roommates told me they were buying tickets to see my favorite band, I had to find a way to go.
I decided to pick up a vape cartridge for the show since the indoor venue doesn't allow smoking. I only have a standard 510-threaded vape battery and wanted something that would put me in the right state of mind for the show: a balanced hybrid that doesn't hit too hard or cause even more anxiety.
After consulting a cannabis concierge and local budtender, I chose the "relaxing but uplifting" Pineapple Afghani .5g cartridge by AbsoluteXtracts (ABX). This strain-specific CO2 vape oil is part of a special line produced in conjunction with Emerald Cup Concentrates, a NorCal-based brand like ABX known for their selected sun-grown strains.
Will the hybrid vape oil remedy my concert concerns and put me in party mode, or make me feel like I'm being trapped and trampled in a mosh pit? Almost showtime.