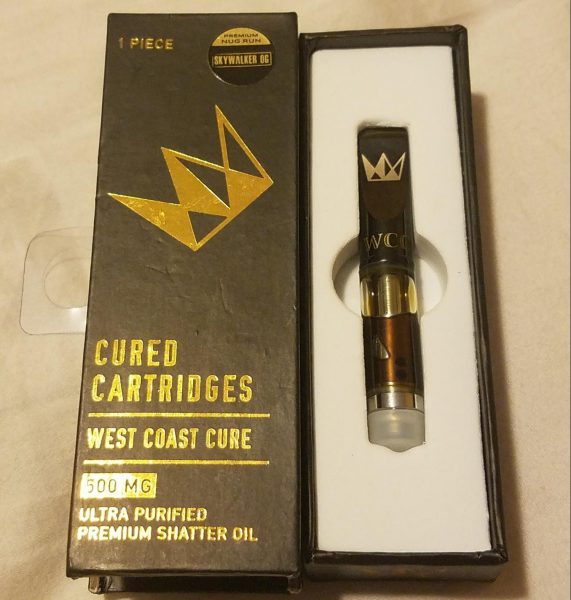 Never count out the magic of Skywalker OG (or anyone named Skywalker for that matter). It's an indica-dominant hybrid (85% indica and 15% sativa), a mix of the hugely popular Skywalker and OG Kush strains. I'm hoping to get these same effects from West Coast Cure's (WCC) Skywalker OG shatter oil cartridge. 
West Coast Cure is known for super powered highs, the kind that leave you sprawled and staring with a blissful smile. That potency helped win first place in the 2012 High Times Cannabis Cup's "Concentrates" category with their Hardcore OG Budder. Rapper/Viceland foodie Action Bronson has vocally supported this crowd-pleaser and their other award-winning budder, crumble and shatter.
This Skywalker OG "Ultra Purified" Premium Shatter Oil sounds like a dabbable, and that's deliberate. The idea behind "shatter oil" is to create a vape that tastes and works like a dab with a full, flavorful terpene profile. It specifically operates on lower temperature levels to boost the profile and lower the throat harshness.
Let's find out if the force is strong with this one as I sample WCC's Skywalker OG shatter oil vape cart.