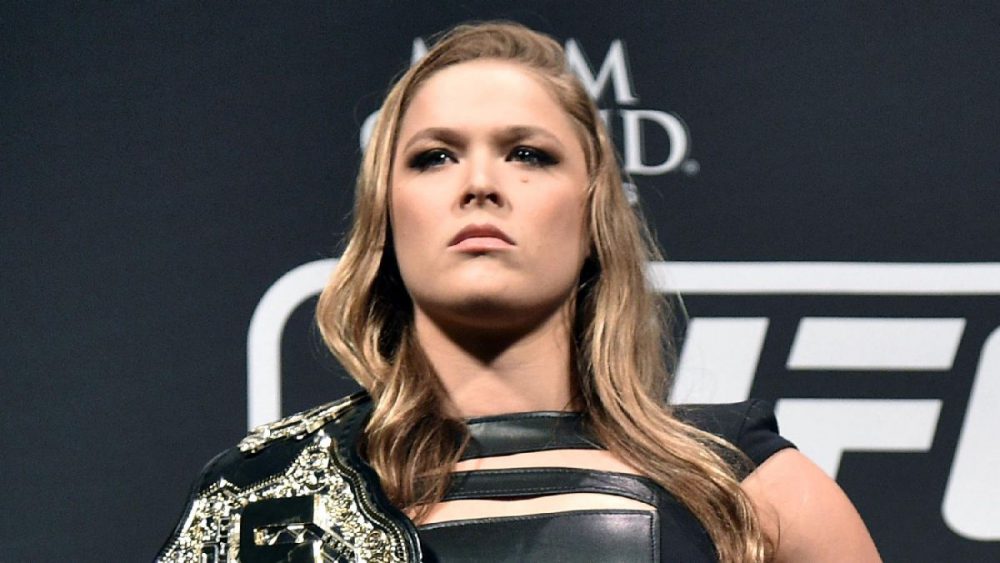 Ronda Rousey is standing up to the Nevada State Athletic Commission (NSAC) after they decided on Monday to suspend UFC fighter Nick Diaz for five years for apositive marijuana test.
"I'm sorry, but it's so not right for him to be suspended five years for marijuana," Rousey said on Wednesday at a UFC press conference in Melbourne, Australia.
Diaz's suspension is a result of him testing positive for marijuana for a third time. Lots of people think the suspension is ridiculous. But Rousey, a close friend of Diaz's, took it one step further on Wednesday, saying she doesn't think marijuana use should be penalized at all.
"I'm against testing for weed at all. It's not a performance enhancing drug. And it has nothing to do with competition. It's only tested for political reasons," she said.
Spot on, Ronda. Although marijuana is on the World Anti-Doping Agency's Prohibited List, the advantages it can offer athletes during a competition are, by WADA's own admission, limited to "better focus" and "diminished stress."
Diaz and many more athletes who regularly smoke marijuana use the drug for non-competitive recreational purposes. Diaz himself is a card-carrying medical marijuana patient in California. But in making its decision, the NSAC effectively stripped away all context behind Diaz's possible marijuana usage, charging him like a cheater when he's really just another fighter in pain — a point that infuriated Rousey on Wednesday.
"If one person tests for steroids, that could actually hurt a person, and the other person smokes a plant that makes him happy, and he gets suspended for five years. Whereas a guy who could hurt someone gets a slap on the wrist. It's not fair," Rousey said, also adding that she believes marijuana testing is an invasion of privacy.
Perhaps more perplexing: If Diaz had been caught actually taking steroids instead of marijuana, he would have been subjected to a much shorter suspension.
Petty politics within the NSAC may have been behind Diaz's trumped-up suspension too. The NSAC's Pat Lundvall reportedly pushed for a lifetime ban against Diaz despite the organization's own guidelines suggesting a three-year ban for a third positive marijuana test.
Lundvall's reason for motioning for a lifetime ban? She felt disrespected by Diaz, a fighter who's never stained the integrity of the sport by testing positive for steroids, and whose harmless marijuana use was for relaxation and pain-relief purposes — a more than understandable choice, especially considering the dangers of pain-killing and anxiety-relieving prescription drugs in certain cases.
Taking all of this into consideration, Rousey was defiant in her support for Diaz and her disdain for marijuana testing, closing out her speech by declaring, "I think we should free Nick Diaz."
By Justin Block
---
About Nugg Team
Nugg is the "GrubHub for marijuana." Our site lets medical marijuana patients order online from dispensaries that deliver to them. Signup with the code BLOG20 for a $20 credit on your first order!
---