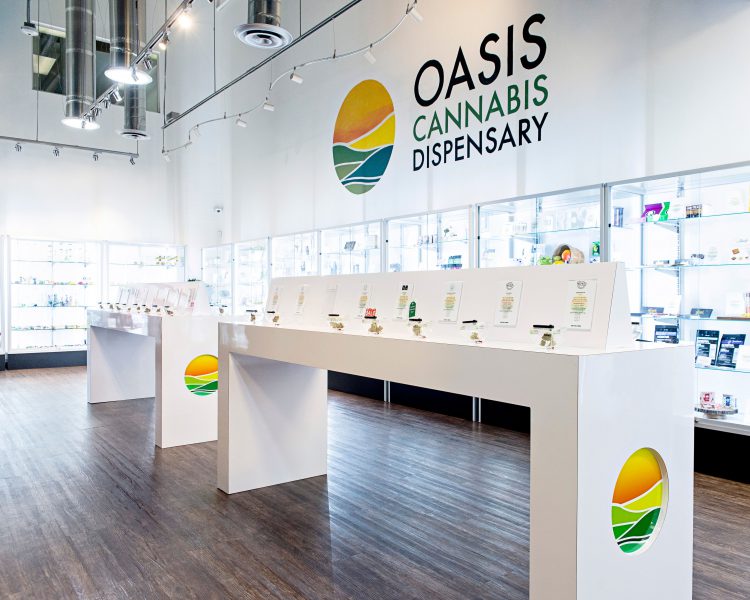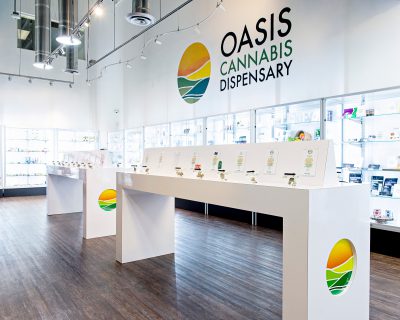 You don't have to travel far from The Strip to find one of the most customer-centric cannabis dispensaries in the nation. Oasis is Las Vegas's one-of-a-kind experience in cannabis curation, and now they're taking their already stellar service up a notch.
Whether you're a patient seeking an exotic product, or recreational customer looking for the perfect bud to pair with your night on the town, Oasis has transformed their dispensary to meet your needs like never before.
New Design, Same Great Service
One thing Oasis' facelift won't be affecting, however, is their great personality. "While we have upgraded their shopping experience, the one thing that's NOT changing is our mission," says Matthew Janz, Vice President of Marketing and Operations.
"That mission is to provide our customers with the best service possible, the widest product selection, and the most knowledgeable patient consultants. This is an upgrade, but it does not change who we are at the core. The foundation of Oasis is constant, and our commitment to the community remains our top priority–and it always will."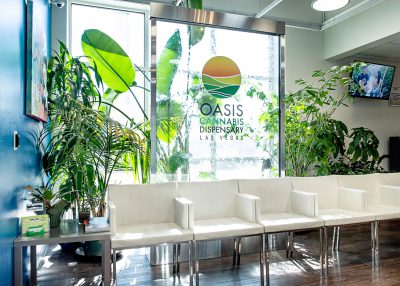 What Cannabis Buying Should Be
Gone are the days when cannabis consumers were forced to buy dime bags of schwag behind the local convenience store. But have you noticed that some dispensaries still seem to have that seedy atmosphere? Not at Oasis! This is a place where you can really feel comfortable while exploring new cannabis possibilities.
They've always had a warm and welcoming environment, but now they've added features that make their store seem like the Bloomingdale's of weed.
They've opened up their floor, which is no longer blocked off by the two large cases, and added an additional 12 feet of retail space.
They've replaced the green walls with calming whites and blues so customers don't feel rushed.
Wall-to-wall product cases are categorized for easy browsing.
Duplicate displays have been added for the more popular items to give customers more elbow room and increase the relaxed feel.
All products are prominently labeled in the LED-lit cases so you can easily see their selections.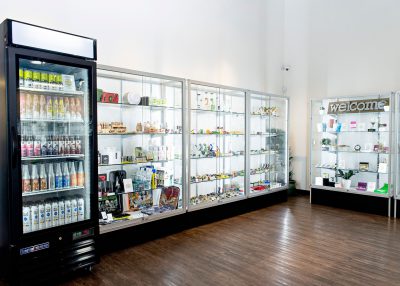 Best of all, two self-service bud bars let customers get up close and personal with each strain's specs, including terpenes, THC levels and cannabinoids, without a budtender waiting impatiently to put the product back. Feel free to sniff and examine every strain till you find exactly what you're looking for.
Individual Curation
One of their most striking qualities has been a part of the business model from day one. Oasis specializes in helping clients discover the perfect product for their needs. Now that recreational is part of this equation, they've redoubled their personal approach.
"We don't want people to come in and feel like they're just another customer. It's very important that they feel like part of the Oasis family, so they're given one-on-one consultation. This allows us to see what they're looking for and guide them toward the right products," says Janz.
Leading in Budtender Education
To provide the best customer experience, they fully educate their customer consultants to understand and be able to relate the effects of different cannabinoids, terpenes and the entourage effect. And whether you're a medical or recreational customer, you'll receive the same great individual service.
"Both medical and recreational customers are coming here to find relief," says Janz. "They're often looking for something to end their night after work, or for mood elevation and relaxation. These are things that cannabis provides whether it's used medically or recreationally. So for us, every person that comes in deserves to be educated and empowered to have the best experience possible. For us, that involves the personal approach."
The New-and-Improved Community Oasis is Returning Soon!
In addition to their other great features, Oasis's Community Oasis room serves as a community hub for artists, healing services, support groups and education-based programs.
The Community Oasis is currently under redesign as well, so it won't open till Summer. When it does, be prepared for the same incredible programs and a lot of new ones too! They provide most of their programs free of charge, and the rest are offered at a very low cost.
So, whether you're looking to find a new product, seeking to connect with your fellow cannabis community or just want to check out their new digs, there's never been a better time to stop by and check out Las Vegas's cannabis leader, Oasis Cannabis Dispensary.
---
About Deb Tharp
Deb Tharp is a cannabis activist, consultant, and writer. She began her cannabis activism at the age of 18, helping local candidates campaign door-to-door in the Midwest. Little did she know that the plant would save her husband's life a decade later. After watching him recover 60 pounds to his skeletal frame in a matter of months, she was convinced that the war on weed must end. She ran for State Assembly in 2010 while completing her bachelor's degree at University of California, Irvine. During her campaign, she managed to bring cannabis legalization to the forefront of the debate. Little more than a year later, she was publicly arrested while gathering signatures for a cannabis ballot initiative in Orange County. She fired back at the county by qualifying Measure CC in Santa Ana under Kandice Hawes' of OC Norml's expert leadership. In the following years, she authored, qualified and helped to qualify over a dozen local legalization ballot initiatives across the state while teaching other activists how to do the same. She currently writes for Nugg, the nation's largest online cannabis marketplace, while pursuing her law degree at Taft Law School and will graduate in 2021.
---