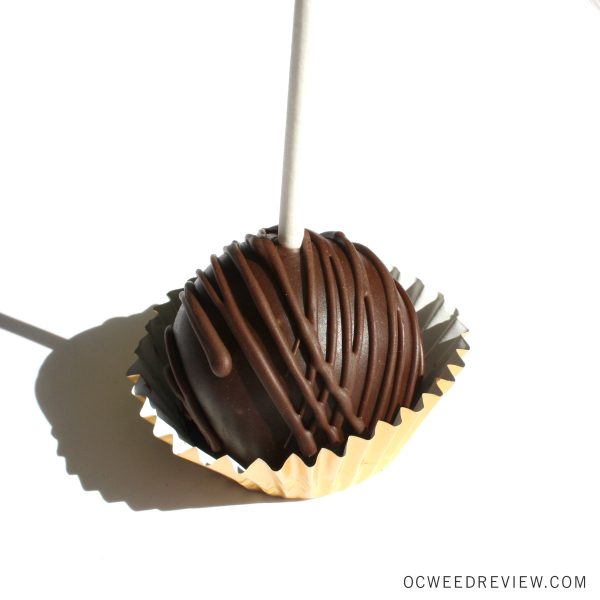 When I was given one of Miss Mary Jane's Chocolate Caramel Cake Pop Edible, it was alluded to that they would be fluffy, moist, and delicious.  But somehow being told doesn't fully prepare you for reality.
This cake pop is formed using a base of brilliantly velvet chocolate cake with an indulgent core of soft caramel filling.  Surrounding is a thin crispy crust of decadent chocolate, drizzled to perfection to complete the aesthetic effect.  There is only a hint of cannabis to the taste, as it's difficult to mask completely.
That's why chocolate is so often used in edibles – it's a complementing effect.  Rather than cover up the green flavor, the chocolate uses it to its benefit.
This medicated cake pop edible was made with Charlotte's Web, a CBD rich strain first bred by the Stanley brothers from out of Colorado for Charlotte Figi, an 8 year old Dravet Syndrome patient who found relief from her seizures with the high CBD strain.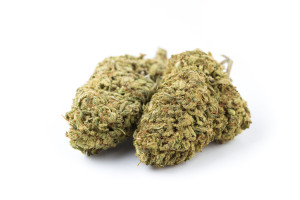 Miss Mary Jane's Edibles gets their Charlotte's Web from Coastal Collective in Santa Ana, one of the only Southern California dispensaries to carry this prized genetic.
At nearly 60 mg of total cannabinoids, this edible produces an incredibly sedative high, making it a fantastic treatment for the physical symptoms of anxiety.
Since CBD counteracts the anxiety or "paranoia" effect created by THC, Charlotte's Web provides relief rather than creating more problems.  There is an amazing physical relaxation, as pain melts away along with your stress.
Proponents of CBD rich products tout a lack of intoxication in the effects, making it great for those looking to avoid the traditional cannabis high.  I would agree there's not a high level of "intoxication", but I did find plenty of light, smooth social interaction as a result of ingesting this product.
This edible made me re-think the value of CBD, being a sativa fan myself.  As a sufferer of both pain and anxiety, this edible provided effective relief for my range of symptoms.  While some patients' utilization of high THC for other medicating needs prevents them from relying solely on CBD rich products, edibles like Miss Mary Jane's Edibles' chocolate caramel cake pop have plenty of pragmatic medicating uses.
The original version of this article can be found at OC Weed Review, a Nugg content partner.
---
About Nugg Team
Nugg is the "GrubHub for marijuana." Our site lets medical marijuana patients order online from dispensaries that deliver to them. Signup with the code BLOG20 for a $20 credit on your first order!
---