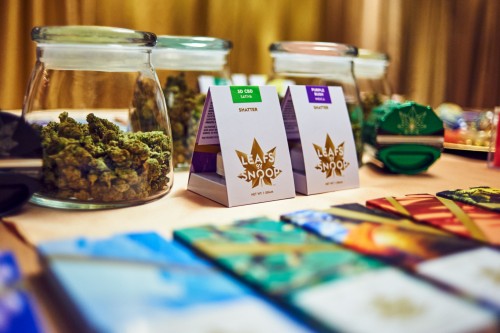 MERRY JANE is excited to exclusively announce that Snoop Dogg has gifted the community with his own brand of cannabis products! Leafs By Snoop was announced at a party last night in Denver, Colorado and it was a cause to celebrate. Leafs By Snoop, or LBS, will offer flower, concentrates and edibles and will be sold in Colorado medical and recreational dispensaries.
"It's a true blessing that I can share the products I love so much with y'all today," Snoop said. "From the flower to concentrates and edibles – it's all handpicked by yours truly so you know it's the hottest product out there. It's the real-deal and you gotta get out to Colorado to try it first!"
Each product in the LBS line has been hand-selected by the esteemed icon himself. Snoop has been involved in every step of the creation of LBS. He hand-selected each flavor and product, ensuring that each complies with state regulations while also representing his own favorite tastes and textures.
LBS is made up of a variety of products. "Dogg Treats," a branch underneath the Leafs By Snoop umbrella, will include Peanut Butter Gems, Gummies, Drops and Fruit Chews. Additionally, LBS offers a line of chocolate bars in six different flavors, made with fair trade, premium couverture chocolate infused with cannabis oil.
Leafs By Snoop will also include eight different strains of flower: four indica-dominant hybrids, three sativa-dominant hybrids and one high-CBD strain. Each strain will be sold in three sizes: 1/8 oz, 1/4 oz and 1 oz. Find the product list and more information on Leafs By Snoop here.
Leafs By Snoop was announced at a private party hosted in Denver and of course, was a night to remember. Guests were treated to the first official preview of the hand-selected line of products. Attendees included select press and dear friends of Snoop Dogg himself, all gathered under one roof to celebrate the mogul's next business chapter. MERRY JANE was on the grounds, providing the exclusive peek into a night out with Leafs By Snoop and the Dogg himself. Watch the recap video below, and check out a personalized recount of the night by one of Maxim's own.
This post is originally found at MERRY JANE.
---
About Nugg Team
Nugg is the "GrubHub for marijuana." Our site lets medical marijuana patients order online from dispensaries that deliver to them. Signup with the code BLOG20 for a $20 credit on your first order!
---