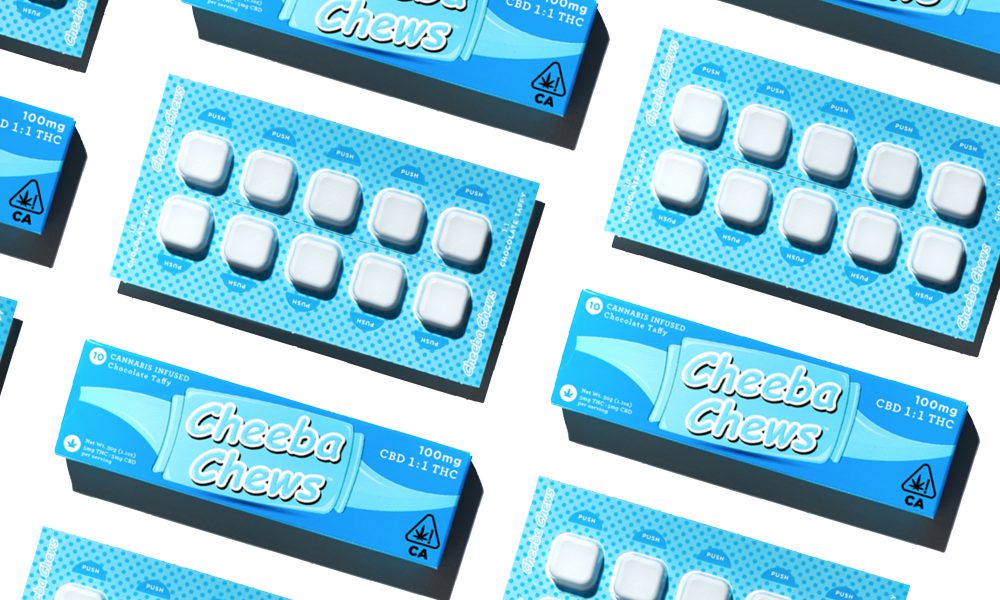 When I have an unbearably jam-packed day, I look for an edible I can trust to deliver a focused, long-lasting high that provides relaxation without the drowsiness. Time and time again I turn to a trusted brand like Cheeba Chews and their 100mg 1:1 THC:CBD Chocolate Taffy (around $20) to get me through a long day.
How to describe Cheeba Chews? Classic. Iconic even. For nearly 10 years, the brand has worked to cement its status as a familiar and trusted favorite. Their time-tested experience produces consistently tasty and beneficial products you can trust to deliver a familiar high every time. Find their products in most legal cannabis dispensaries in California, Colorado and Nevada.
Cheeba Chews Chocolate Taffy comes in a rectangular, baby blue package. Inside are 10 individual blister-packed 10mg square pieces, each dosed with 5mg of THC and 5mg of CBD. This even ratio provides a perfectly balanced high, relaxing the mind and spirit while providing enough energy and focus to face a busy day head-on.
This cannabis-infused taffy isn't the most unique edible available, but what it lacks in creativity it makes up for in nostalgia and consistency. Each chewy, sticky bite reminds me of the saltwater chocolate taffy I bought as a kid on family vacations by the beach, enjoying them on the sand as the waves glided in and out – only with a slight cannabis flavor. These days I'm typically not relaxing by the Pacific when I eat Cheeba Chews (I'm sorry to say), but their texture, chocolatey flavor and consistent high leave me similarly relaxed for 2-6 hours.