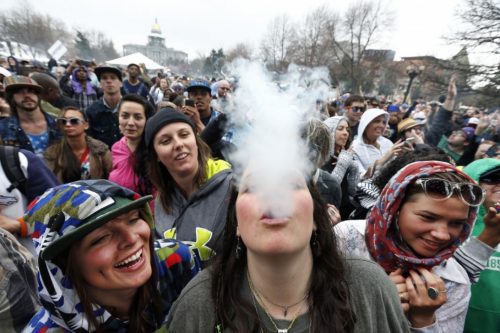 Law Enforcement Changes Tactics for 4/20 
In an acknowledgement that the "Just Say No' message is no longer relevant, the Colorado Department of Transportation has a new strategy to ensure safe and responsible marijuana use.
Starting with the 4/20 festival, law enforcement officers gave out snacks instead of tickets to revelers. The snacks included messages incurring cannabis users to munch, not drive, after indulging.
The agency also set up free arcade games at dispensaries that offered more tips on safely consuming cannabis.
While police around the country are being slammed for being excessive, it's great to see at least one law enforcement agency finding innovative ways to protect the public and serve their community.
This tweet pretty much sums it up: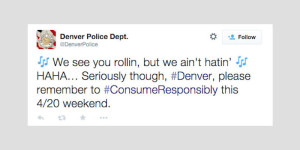 Read more here: The Denver Channel
Pot Panel Addresses Legalization Concerns
Liuteneant Governor Gavin Newsom's Blue Ribbon Commission on Marijuana Policy held a public forum at UCLA last night. A supporter of lifting the prohibition on cannabis, Newsom did say he had some concerns. "I don't want to see big tobacco become big marijuana. I don't want  walk down the streets or walk to the playground with my kids and smell it." he said.
The panel is looking at a number of issues that come with legalizing marijuana. They are studying how to regulate growers, how to ensure public safety and how to deal with individuals caught driving while impaired.
4/20 Kid Cannabis Sequel in the Works
Last year's Kid Cannabis, the dark comedy about an Idaho teen that builds a marijuana empire, is getting a sequel. John Stockwell is in talks to return as writer and director of the film. The film will focus on Topher's exploits and begins production in 2016. It will be released April 20, 2017.
Leonhart's Exit Opens the Door For Change at DEA
News that Drug Enforcement Administration chief, Michele Leonhart is preparing to resign was met by jubilation by many in the cannabis community. As a veteran of the 'drug war', Leonhard refused to acknowledge that marijuana has any medical benefits. This opinion put her squarely at odds with her boss President Obama and Attorney General Eric Holder.
Couple that with a long list of scandals and it's easy to see why it's her time to go.
As the country moves toward lifting the prohibition on cannabis, it's important to find someone that has his or her finger on the pulse of today's America.  It's our hope that the new DEA chief will understand the importance of studying cannabis, will allow states to execute their marijuana laws without intrusion and to finally reclassify cannabis.
Currently marijuana is considered a Schedule I substance under the Controlled Substances Act. A Schedule I listing means that the substance has "no currently accepted medical use and a high potential for abuse." Heroin, LSD and ecstasy are also classified as Schedule I.
Reclassifying cannabis would allow more studies on its benefits to be conducted and would recognize that there already is a healthy amount of evidence showing the healing power of cannabis.
---
About Nugg Team
Nugg is the "GrubHub for marijuana." Our site lets medical marijuana patients order online from dispensaries that deliver to them. Signup with the code BLOG20 for a $20 credit on your first order!
---