Leave a Comment
The spirit of Halloween is based on do-it-yourself creativity. From homemade costumes to a spruced-up trick bag, the more handmade a prop is, the more authentic the experience feels–especially if it looks and tastes memorable. 
Rather than making cannabutter from scratch, you can use cannabis-infused treats (chocolate bars work best) and melt them down, or break them up and add them to your favorite Halloween goody recipe. This not only saves time, but you can order edibles from Nugg and have them delivered to your door while you hang cobwebs and carve jack-o-lanterns.
Try Making These Halloween Edible Recipes:
[Click any of the section titles below to jump there]
Ghoulish Goodies From the Depths
Using a box of cake mix (vanilla or chocolate works best) and cannabis-infused cocoa nibs. 
Prep Time: 5 – 10 mins
Cook Time: 9 – 10 mins
Ingredients:
1 box (16.5 oz) of vanilla or chocolate cake mix
1/3 cup oil vegetable oil
2 eggs.
Pack of Flav 100mg Cocoa Nibs Dark Chocolate Bars
Pack of edible eyes
Pack of edible fangs
Marshmallows or marshmallow bites
Tools:
Spoon, spatula, hand mixer or standing mixer

Baking sheet

Wax paper or silicone baking mat

Microwave or stovetop and a double boiler (saucepan and metal or glass bowl also works)

Oven
Instructions:
Preheat the oven to 350°F.

Line a cookie sheet with parchment paper or a silicone baking mat. Lightly coat the parchment paper with butter to prevent sticking.

Melt the pack of Flav 100mg Cocoa Nibs in the microwave 1-3 minutes or chop them up and add in a double boiler for easy melting.

In a large bowl combine the 2 eggs, oil, melted cannabis chocolate, the wet ingredients, before slowly adding the dry cake mix.

Mix well.

Use any kind of spoon or a small ice cream scoop to place rounded balls on to the lined cookie sheet. You can make them any size, but I like to shape mine about an inch because they're easier to decorate that way.

Place marshmallows on the raw cookie dough before placing in the oven.

Bake for 8-12 minutes depending on your level of desired gooeyness.

Let the cookies rest for 3-5 minutes cool either using a fan or the environment around you.

Use some of the melted chocolate as glue to press on the edible eyes and wax fangs on the cookies. Use either a small spoon or a tooth pick to spread the chocolate on the back of the candy decorations and gently place them on the cookies. Place in the fridge for around 30 mins to let the chocolate harden.
Option: Skip melting the Flav cocoa nibs and place these chopped or broken pieces on top of the cookie dough, alongside the marshmallows.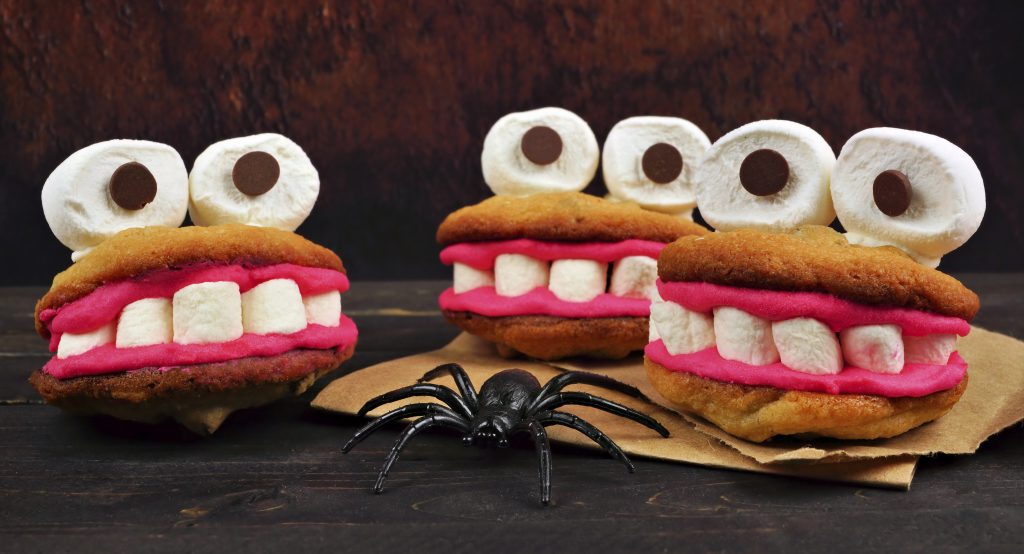 Spooky Demon Cookie Balls
Using cannabis-infused cookies and chocolate 
Prep: The day before Halloween. Usually takes 30 mins to an hour.
Ingredients:
A pack of candy eyes

2 packs of Korova Mini Chocolate Chip Cookies (20 cookies)

1 pack cream cheese. 

1 bag milk chocolate chips

3 – 4 teaspoons of vegetable oil
Tools:
Food processor or a heavy, blunt object (mallet, rolling pin, bottle) and a Ziploc bag

Large bowl

Refrigerator (for best results)
Instructions:
Ground the Korova Mini Chocolate Chip Cookies in the food processor or put in the Ziploc bag and smash them with a mallet or rolling pin to produce fine crumbs.

Mix the cookie crumbs and cream cheese to create a batter.

Form the dough into balls (number will vary, based on size) and place on a plate or cookie sheet.

Melt the Kiva BlackBerry Dark Chocolate Bar in a bain-marie or microwave for 1 minute, stop to check, and then cook at 30-second intervals to make sure chocolate doesn't overcook; thin with vegetable oil.

Dip the cream cheese cookie balls in the chocolate, making sure they're fully coated. If you don't want to get messy use a toothpick to dip.

Decorate the wet balls with the googly eyes and add the milk chocolate chips as horns.

Refrigerate overnight to harden.
Note: This recipe is customizable as the measurements can be modified depending on your party's size.
Rice Krispie Dipped Marshmallow Monster Bars
For the last-minute party planner.
Prep: The day before Halloween. Usually takes 15 – 40 mins, depending on your decorative detail. Let harden overnight. 
Ingredients:
Any size Rice or Cocoa Krispie Bars (store-bought or homemade)  

3-4 teaspoons of vegetable oil
Decorating Options:
Chocolate sprinkles

Edible googly eyes

Edible Halloween decorations (tiny ghouls, candy corn, etc.)

Marshmallows

White chocolate

Sprinkles
Tools:
A large bowl

Your imagination

A helping hand (optional)
Instructions:
Cut the marshmallow rice treats in half or leaving as is.

Melt the cannabis-infused chocolate bar in a bain-marie or microwave for 1 minute, stop to check, and then cook at 30-second intervals to make sure chocolate doesn't overcook; thin with vegetable oil. 

Dip half of the Rice Krispie treat in the chocolate (you'll want to tread lightly to start) and let them drip on the bars vertically to get that oozy, slimy look. 

Decorate your monster however you want and unleash your inner artist.

Refrigerate your unique chocolate covered cannabis creature until hardened (1 hour – overnight).
Note: This recipe is especially enjoyable with friends; you can even have a contest for the most elaborate monster bar.
We hope you enjoy these creepy cannabis-infused treats. Remember, all medicated ingredients can be replaced with non-medicated chocolate so anyone can enjoy them.
See if Nugg delivery is available your area and get baking today! If you have questions, chat online with Nugg's Cannabis Concierge – we can help you find the products to please every type of party guest this Halloween.
---
Warning: Please consume these edible snacks responsibly and in moderation. Be mindful that edibles usually activate within 30 minutes to four hours after consumption.