Leave a Comment
When concentrates first came on the scene, the headlines about dabbing, and even vaping, addressed real concerns about their quality and potential contamination. I still carry some of this worry, which is why I'm very particular about the vape cartridges I use.
After doing some research and asking around, the name "HoneyVape" kept popping up, so I decided to try their tasty-sounding Blackberry Kush .5g vape cartridge. (Also available in 1g.)
In this HoneyVape Blackberry Kush cartridge review, you'll learn about its:
[Click any of the section titles below to jump there]
Brand Background
HoneyVape™ has an excellent reputation for producing some of the safest, most effective and tastiest vape cartridges, disposable pens and distillate applicators on the market. With a team made of equal parts scientists and master growers, the brand brings a new meaning to clean and potent concentrates.
The brand was the first vertically integrated collective in California, growing their own cannabis for patients, and also the first California company to make use of the distillation process. Their attention to research and revolutionary new techniques show in their products.
It's also one of the only California cannabis companies to forego the winterization process, which uses alcohol or other solvents to purge lipids, fats, waxes and more natural cannabis oil components, creating a thinner product. Instead, HoneyVape keeps the plant as whole as possible, preserving all of the cannabinoids, terpenes, flavonoid and lipids to produce more natural, cleaner and healthier cannabis concentrates.
Because of this proprietary process, their concentrates can be thick, flavorful and offer a robust high. I chose their Blackberry Kush cartridge because it sounds fruity and I enjoy kush's relaxing effects. I'm excited to try this after work!
Packaging, Labeling & Product Design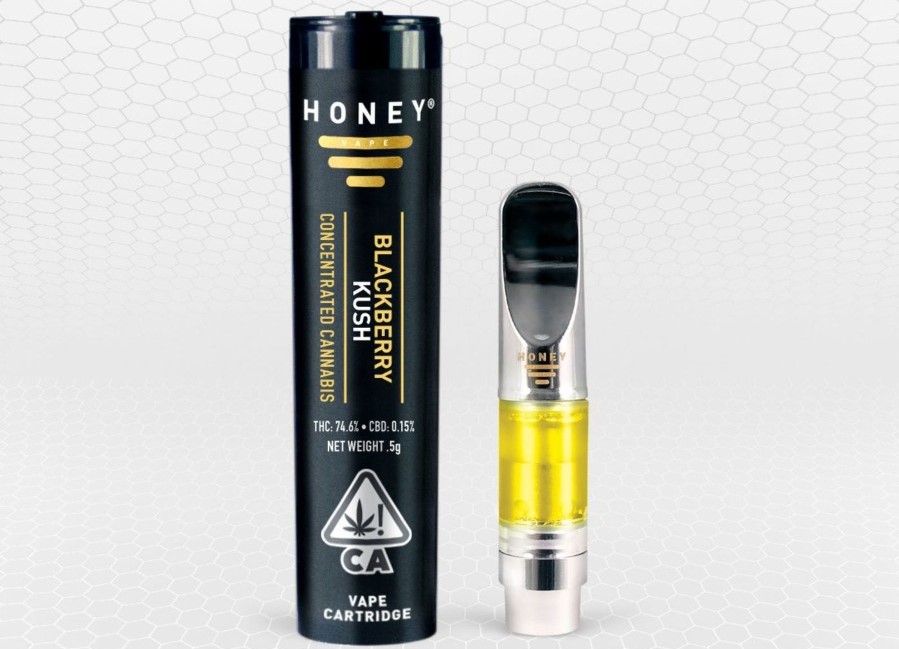 The 0.5 gram vape oil tank sits inside a durable black plastic tube similar to those used for pre-rolls, though this is the first time I've seen it house a cartridge. (Mental note: reuse it as a joint tube.)
It's wrapped with a sticker labeling all the necessary info: brand name, product type, strain name , ingredients, weight, batch number, manufacturing date, which lab tested it, health warnings and THC (74.6%) and CBD (0.15%) content (NOTE: the video reviewed Blackberry Kush cartridge above is an older model with a slightly different cannabinoid content). This info comes in a modern, attractive white and rose gold font that exudes simplicity, quality and class.  
I squeeze the sides of the childproof top between my thumb and index finger then the tube pops open. As I slide the small cartridge out I realize it has a stainless steel mouthpiece and base, glass chamber, ceramic core and a small HoneyVape logo subtly etched onto the mouthpiece. Inside the glass tank, I can see a thick honey-colored oil that looks like liquid gold.
While I appreciate this detailed info, I'd love to know more about strain genetics, where the cannabis was sourced, and a terpene breakdown. The website notes their cannabis is exclusively sourced from small Humboldt family farms, so I'd like to see that commitment highlighted. I know HoneyVape labs tests its products at least four times per batch but that isn't stated on the package – a selling point that should be recognized.
Quality, Ease of Use
The thick honey-colored goo inside of this glass chamber has the exact the color and transparency I look for in vape oil, confirming the quality. I easily twist the cartridge onto a normal 510-threaded battery and begin taking small, rapid puffs to pre-heat and loosen up the viscous gold oil inside.
As I take my first deep hit, I'm immediately struck by the flavor. It tastes like a mixed berry medley with notes of blackberry, strawberry and even blueberry. A deeply earthy undertone cuts through the fruity sweetness offering a balanced complexity. (I assume their proprietary extraction and distillation processes are partially responsible for this unmatched flavor.)
The flavor is further enhanced via "Fresh Mapping," a technique that creates a scientific map of the chemical magic making each of their strains so flavorful and potent. Their scientists then re-introduce 25-40 terpenes, ensuring the final result resembles the whole plant while restoring any flavors that may have been purged. You won't find any hard-to-pronounce chemicals or solvents here!
When it comes to using this blackberry kush cart I didn't have any trouble getting a solid puff, despite its thick and almost immovable oil. Luckily HoneyVape designed their proprietary cartridges with a ceramic core built specifically to accommodate this viscosity. If clogging does arise, take initial rapid puffs, submerge the cartridge warm water or rub it quickly between your hands to loosen the oil.
Potency, Effectiveness & Affordability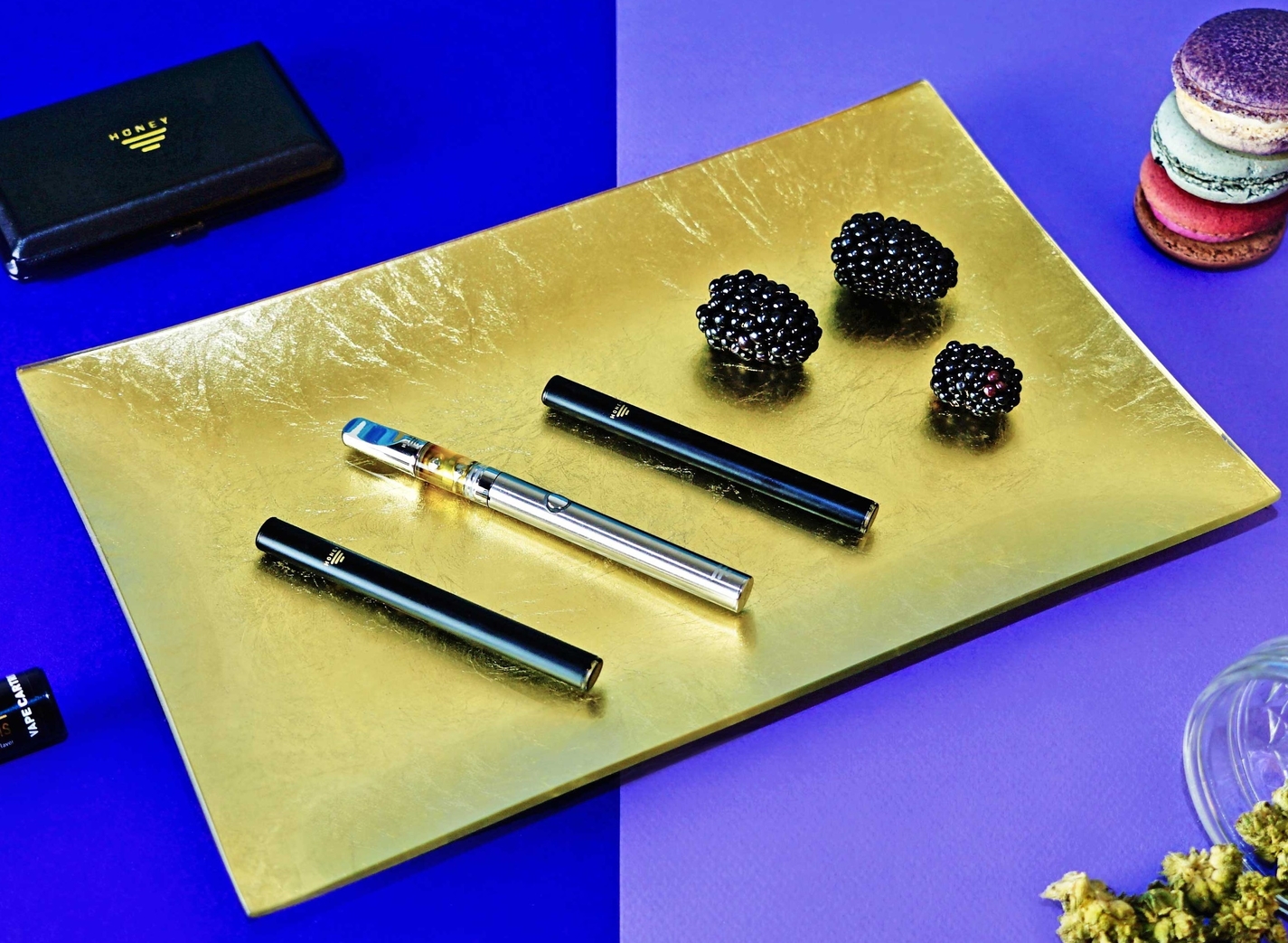 HoneyVape's .5g Blackberry Kush cartridge is a mix of Afghani and Blackberry indica strains. But the brand knows cannabis potency is about more than just THC, focusing on providing a full spectrum of terpenes and phytochemicals vital to producing a robust, full-bodied high.
Like the flavor, the high comes on strong; I feel the oil's potency after two solid hits. As the high sets in throughout my body, I feel very relaxed but remain alert. I don't feel totally couch-locked, though I wouldn't want to do any complicated or strenuous activities right now. Indicas usually give me the munchies but the strong presence of the terpene humulene actually suppresses my hunger. I can feel all those pain-relieving properties of myrcene set in as well, relaxing my sore lower back.
Everything about this cartridge screams quality so it's definitely worth the $40. While you can find similar cartridges for around the same price, you might not get the same experience or quality. I'd absolutely try this again along with their other offerings.
Nugg Score: How the Nugg Team Rates This Product

Packaging: 4/5
The plastic looks nice on the shelf and the rose gold, white, and black color scheme elevates the overall look. While the tube is thick enough to keep the cartridge safe inside and I appreciate that it offers UV protection, I wish it consisted of a more sustainable material.
Labeling: 4/5
The packaging is a little small to include much info, so there were a couple of key things missing. I'd like to see a little more robust lab test reporting, plus background on the plant's genetics and where/how the cannabis was cultivated. Other than that, the labeling was adequate for all California Adult-Use laws.
Cartridge Quality: 5/5
Unlike some, this cartridge is made from very thick, durable and reliable materials: stainless steel, ceramic and glass; the HoneyVape logo is engraved on the mouthpiece. 
Taste: 5/5
The flavor is the most impressive aspect. It's like sipping a mixed berry smoothie and, unlike so many concentrates with boasting fruity flavors, doesn't taste artificial. It's worth buying to experience the taste alone. The aroma matches the taste perfectly, with a distinct fruitiness undercut by an earthy undertone.
Vapor Quality: 4.5/5
Smooth and very fragrant that didn't irritate my throat or lungs, though I did cough after the second puff. 
Oil Quality: 5/5
Unlike anything I've ever seen before. It's incredibly thick and almost looks immovable, but transparent. There's no cloudiness or dark spots, only a beautiful golden oil that really does look like honey. 
Effectiveness: 5/5
A deeply relaxing strain stops just short of couch lock. Unlike other indica cartridges that make my head cloudy, this Blackberry Kush kept me alert while providing deep muscle relaxation. I'd love to use this strain for a movie night!
Easy of Use: 4.5/5
Didn't get a HoneyVape battery with your blackberry cartridge? Just twist it onto a standard 510-threaded pen and you're ready. However, the oil's thickness could cause some clogging, which would require warming the cart to loosen.
Consistency: 5/5
Potency tested consistently high and the oil's texture and look was the same thick, golden consistency across multiple cartridges. HoneyVape tests each batch at least four times to ensure that their products are consistent. This effort goes a long way.
Price: 5/5
About $40 for a 0.5 gram of such tasty, attractive, effective and clean THC oil inside in a well-made cartridge is worth the price.
Overall Rating: 4.7
The HoneyVape™ Blackberry Kush cartridge's stainless steel and glass materials are sleek and sustainable, the oil is thick, clean and golden, the natural berry flavors are explosive, and the high is the perfect amount of relaxing.
Plus, HoneyVape eases my fear of contaminated concentrates; it'll be hard to find a brand that can beat their commitment to quality. The only issue I had is with the oil's thickness potentially causing a clog, which can be resolved. All this for under $50 is a price I'll pay again and again!